Ease of Use -

9.9/10

Security -

9.9/10

Speed -

10/10

Performance -

9.9/10

Backup & Support -

9.9/10

Plans & Pricing -

9.5/10
Rocket.net Review Summary
Rocket.net is a managed WordPress hosting provider that offers a fast and secure platform to create your website. Rocket.net will provide your website an instant performance boost thanks to its simple control interface, built-in security, and cutting-edge WordPress optimization. Rocket.net is a wonderful alternative for your business if you want a quality service with ease of use and good customer care.
Looking for unbiased Rocket.net Review by experts!
A fast website is a necessity. If you are running a website or a blog and still not getting the desired search engine rankings then you must take into account the loading speed of your website.
Most beginners fall prey to cheap web hosting providers offering huge discounts with freebies. But not all of them provide adequate resources to provide the necessary speed required for your website. As a result, your website doesn't acquire the desired search engine rankings.
Google regularly updates its search engine algorithms. Recently, they introduced a new algorithm called Core Web Vital. This means your website's ranking on Google will be determined based on the speed of loading times for various factors such as LCP(Largest content paintful), FID (Fist input delay), and CLS(Cumulative layout shifting).
With this latest algorithm, website speed becomes an important aspect to achieve better rankings on Google search engines.
Having said that, Rocket.net hosting is one such hosting provider offering high-speed at very competitive pricing.
The complete Rocket.net hosting review is carried out using our rigorous tests and analysis. We have also projected the Pros and Cons too.
You must read the complete review to get in-depth and honest information about the hosting provider. But if you are in a hurry then here is our recommendation for Rocket.net hosting.
Do We Recommend Rocket.net
Definitely! The enterprise-level CDN (content delivery network) and cutting-edge technology offer blazing-fast speed for your WordPress websites.
Before we review any web hosting provider we personally use it for our website to get accurate results. This is how faith is built with our readers.
When I migrated this website to Rocket.net, I was not very sure if they deliver what they claim. But the results were amazing and forced me to continue my website hosted with Rocket.net.
Yes, you have heard it right. After hosting Bloggersutra I have finally decided to host another website hostingradius.com with Rocket.net.
I will be discussing the detailed results after migration further in this article. But if you have already made up your mind then you can go ahead with them to host your first website.
Rocket.net is offering a special deal to start your website with them at $1 for the first month. But if you go with the annual plan then you can get at $25 per month.
I have chosen their Pro plan which costs a decent amount of $50 per month. So click the below button to get the special deal on Rocket.net hosting.
If you are a beginner with a limited budget then you should with InMotion Hosting (Read Review) or HostArmada (Read Review). Both of them offer great results with knowledgeable customer support and cheap pricing.
Before we proceed further let's know a few details about Rocket.net hosting.
About Rocket.net
Rocket.net is a privately-owned company, founded by Ben Gabler and Aaron Dewell Phillips in 2020. Both have extensive experience in the industry after working for years.
Knowing the industry requirements they have designed a hosting specific to WordPress websites with an aim to enhance speed and security.
The company focuses on the 'Product First' approach that pays attention to details in improving the customer experience. In 2021 Rocket.net have officially partnered with HostPapa to accelerate growth and provide better services in the future.
Let's jump directly to the Rocket.net hosting review…
General Info & Rocket.net Review 2023
Initially, we purchased a Rocket.net Starter plan to monitor the website. But after seeing the results of the test website hosted with them I decided to migrate my own website on which you are reading this article.
The results were amazing and then I upgraded to a pro plan to host my other websites too.
We paid for WordPress managed hosting account, set up a live site, and have been closely tracking their performance with a third-party tool to provide this unbiased, transparent review.
Below is the general hosting overview for Rocket.net.
| | |
| --- | --- |
| OUR VERDICT | Super Fast Managed WordPress Hosting |
| SPEED | 429 ms (September 2021 average) |
| UPTIME | 100% (September 2021 average) |
| SUPPORT | 24/7 Live Chat |
| FEATURES | Free SSL, CDN, & WAF |
| HOSTING PLANS | Starter, Pro, Business & Agency Plans |
| SITE Migration | Free |
| PRICING | Starting at $1/mo (renews at $25/mo) |
Bottom line: Overall, Rocket.net is among the best-managed WordPress hosting offering great uptime (100%) and speed (429ms). If you want to focus on your business then host your website with Rocket.net to see desired results.
Being said that, let's dive into our detailed review of Rocket.net hosting.
Rocket.net Performance Tests
Every web hosting provider claims to provide fast and reliable hosting services with a great user experience. Few of them stand for their words but most of them do not.
To find out the transparency of Rocket.net claims, we decided to put the hosting under our own rigorous testing procedure to see how they perform.
Usually, we host a test site on the hosting provider, but in this, I have tested my own two websites. Let me show you the results one by one.
To check the speed we have used Pingdom.com, GTmetrix.com, and Google Page Speed Insight. Just having faster servers is not enough. You have to make some changes to your WordPress website to reduce the load time and increase the Google Page Seep Insight score.
Bloggersutra.com
I could see a drastic improvement in loading speed once the website was migrated to Rocket.net.
Pingdom.com
The improvement in the load time and the performance grade can be clearly seen in the above images. The load time of the website is reduced by more than half.
2. Google Page Speed Insight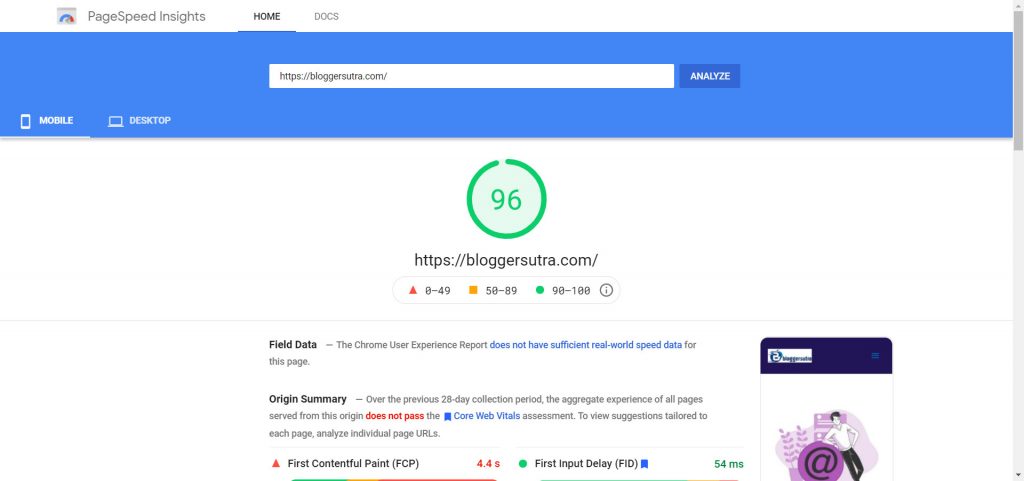 The Google Page Speed Insight score from the previous hosting and current hosting shows an improvement in the overall structure of the website. The score is almost 100 and will be surely loved by Google.
3. GTmetrix.com
I have not taken a screenshot of the previous provider. But after migrating to Rocket.net our website has achieved a 100% score. Check out the screenshot below.
It is clearly visible that there is an unbelievable change in the website speed, load time, and performance after migrating it to Rocket.net. If you ask me this is what is required by the webmaster and most of them pay huge in buying plugins and themes to achieve that.
But it can be simply achieved by migrating your website to Rocket.net. All you need is to install any of the free cache plugins to get better results.
After speaking to their support team they have confirmed that their team is working on a cache plugin that will be available soon. But till then they recommend using WP Rocket.
Pros of Using Rocket.net Hosting
Rocket.net starts strong with 99.99% uptime, Extremely fast speeds, and tons of extra features that are perfect for beginners, power users, and enterprises.
Let's dig in.
Cloudflare Enterprise Global Network (CDN)
Rocket.net provides the powerful Cloudflare Enterprise-level CDN on all their plans to offer blazing-fast speed irrespective of the geolocation of the website hosted. The 250+ cache locations will make your web content available to everyone in no time.
The Rocket.net hosting will fully cache your entire site and isn't just serving images and static files from the CDN. It will intelligently purge the cache so that your visitor will always see the latest updated content.
Blazing Fast Speed
Rocket.net servers are highly optimized for WordPress websites to offer the best performance. You get to experience lightning-fast speed for all users regardless of their geographic location mainly because they support the Cloudflare Enterprise CDN.
Reliable Uptime
With their optimized cloud servers placed in 20+ locations around the world, you get the industry's best uptime for your website every day. In my case, I had hardly found my website inaccessible at any given point in time.
Image Optimization (WebP Format)
Images form an important part of the website, but in most cases, they tend to reduce the website loading time due to optimization issues. Rocket.net automatically converts your images to WebP format, which is a more optimized format for search engines without compromising image quality.
Easy Backup and Restoration
Unlike other hosting providers Rocket.net offers free automatic daily backups, you can also create manual backups for your websites. Another best part is that it offers a one-click restoration of your backup.
Pro Level Security
Rocket.net uses Global Cloudflare WAF and Local Imunify 360 WAF (two powerful web application firewalls) to provide all-around protection to your website from any online threats. As a managed WordPress hosting company they take care of updates, tighten security using a firewall, and malware protection, and keep daily backups.
Unlimited Migrations
If you are looking for a hassle-free migration of your website then Rocket.net is the best fit for you. You get unlimited free website migrations on all of their plans. All you have to do is contact their customer support team and provide the details of the website and servers that need to be migrated. Rest is taken care of by their support staff.
Ease of Use
This is again the best feature liked by me and by others too. They have a very easy to use to control panel that is suitable for advanced as well as beginner users. The panel doesn't have many buttons to make you confused, all major tasks can be performed just by clicking a few buttons only.
30 Days Refund Policy
Rocket.net offers a standard 30 days refund policy to secure your purchase. If you are not happy with their service then you can simply ask for a refund within 30 days of your purchase. For a refund, you can either contact their chat support or simply raise a ticket.
With my experience with them, there would be hardly any chance that you would be unhappy with their services.
Talking about other hosts HostArmada offers 45 day of refund policy, wherein A2 Hosting offers a pro-rata-based refund policy which is much better for testing out all the features for as long as you want and only paying for the time you use their services.
So if you love speed then you must try Rocket.net once and if unhappy ask for a refund.
Cons of using Rocket.net Hosting
Although Rocket.net is the best-managed WordPress hosting for those who love speed. However, there are a few cons on which the team is working to offer the best service.
No Email Hosting
Rocket.net does not provide E-mail hosting on its platform. however, after discussion with their staff, it was evident that they are planning to introduce this feature soon.
But you can easily use the email features of some other platforms like Sendinblue (We are using it). On the other hand, you can also activate the same with your domain registrar.
Non-availability of this feature hardly makes a difference to choose Rocket.net managed WordPress hosting for your website.
No Domain Registration
Till now they are not offering domain registration on their platform. You can use Godaddy or Namecheap to register your domain and simply point your name server to Rocket.net hosting.
Knowledgebase
Currently, there are fewer self-help resources like knowledge base articles, guides, videos, and more. However, they do have 24/7 support available via live chat and phone to take care of all your website-related issues.
Expensive for Beginners
If you are a beginner just planning to start your own WordPress blog or have a website with less traffic then Rocket.net plans come quite expensive for you. But if you can afford to buy the hosting then you must go ahead as speed is the critical parameter for website ranking as specified by Google.
Let's now quickly jump to the Rocket.net features that make it more special hosting for your WordPress website.
Rocket.net Features
Control Panel Interface
Rocket.net offers a simple and attractive control panel user interface that provides you all the details within the dashboard. The Dashboard shows metrics about your number of sites hosted, disk usage, bandwidth usage, and the number of monthly visitors.
It also allows you to create or manage websites, billing details, and support tickets from the same dashboard. You can also live chat with their support staff in case of any issues directly from the dashboard.
Unlike other hosting providers Rocket.net does not use a c-panel, instead, they have their in-house developed control panel which is more user-friendly.
Being fully managed WordPress hosting you don't need to worry about the website's security, optimization, or CDN installations. Everything is managed by their system itself.
Application Security
Rocket.net offers advanced-level security to keep your website safe from malicious tools and online threats. You don't need any third-party service or security plugin for your website to keep it safe.
So if you really don't want to waste your time managing your website security then Rocket.net is the best choice for you. You will get enterprise-level security without paying an extra penny.
24/7 Live Support
Like most hosting providers, Rocket.net also offers 24/7 professional customer support to resolve all your website, WordPress, and hosting-related issues. The experienced support staff resolves your issues without wasting time.
They offer help on emails, phone calls, and even live chat. But I will personally recommend you to use live chat support for early resolution. Alternatively, you can also create a support ticket from your dashboard.
Support response times are great and tickets are resolved fairly quickly.
For minor issues, you can always check their knowledge base. But at the time of writing the review, the knowledge base was under development. Surely will have more self-help guides available in the coming days.
Rocket.net Uptime
From the time I hosted my websites with Rocket.net, I have been monitoring the uptime of their servers. Well, the results are amazing and they have never shown me any downtime.
A managed WordPress hosting provider offering great speed with excellent uptime is a rare configuration. Let's check out the average uptime of Rocket.net
February 2023: 100%
January 2023: 100%
December 2022: 100%
November 2022: 100%
October 2022: 100%
September 2022: 100%
August 2022: 100%
July 2022: 100%
June 2022: 100%
This is so much better compared to web hosts like Bluehost, FastComet, or Hostinger!
Another shared hosting provider offering great uptime and speed is HostArmada and 10Web.
So if you want your website should be online 24/7/365 without any downtime then Rocket.net is for you.
Rocket.net Speed
The website speed is calculated based on the time taken by a website to load completely on your browser.
Even Google Loves Speed!
As per a recent study, a website with a faster load time is more likely to rank higher and better than slow websites. So if you are really planning to mint some money from your website then this is the right time to migrate your website to a faster web hosting provider.
Rocket.net is a great managed WordPress hosting offering great speed and uptime.
Talking about Rocket.net speed, when I tested it from New York, my website loaded in merely 780.9 ms.
Next, I switched to the Bangalore location in India, which almost took 2.41 sec to load for the first time.
Well, I was not happy with the results, but then I thought to retest the speed at the same location. This time the results were amazing and my website loaded in just 967.96 ms.
You must be wondering how is it possible? The answer is simple when I tested my website for the first time the Cloudflare CDN got activated and it cached my website to deliver the contents faster. This is how Cloudflare CDN ensures faster delivery of content across the globe.
Rocket.net Cache
Caching is very important for every website to load faster. Instead of requesting the data every time from the website server, the data is delivered from the cache server located nearest to the user accessing the website.
This way the data is transferred more quickly and securely. Rocket.net's built-in cache system runs in the background and ensures the loading of data quickly for your users around the globe from its 250+ caching server locations.
Managing the caching in Rocket.net is very simple. Their automated system takes care of all the caching needs for your website. You can either deactivate the plugin or clear the cache.
But in case you want to control the caching of your website according to your needs then you can always go ahead with the third-party caching plugins like the W3 Total Cache plugin or the WP Rocket plugin.
Rocket.net also offers automatic image optimization to guarantee faster load speeds. However, all of this takes place in the background and you have no control over it.
Well, we highly recommend using WP Rocket caching plugin. In my case, I am using the same plugin to cache my website. Trust me using the WP Rocket plugin has actually made my website faster and reduced the loading time.
Rocket.net Data Centers
Their data center are located all across the globe. As of now while writing the article their data center is located in 21 different locations with most of them located in the North American regions. Below is the list of data centers.
| | |
| --- | --- |
| Continent | Data Center Location |
| North America | New York, Toronto, Vancouver, Miami, Montreal, Seattle, San Jose, Phoenix, Orlando, Los Angeles, Chicago, London, Atlanta, Austin, Dallas |
| Europe | London, Amsterdam, Frankfurt |
| Australia | Sydney |
| Asia | Tokyo |
Rocket.net is growing faster and expanding its data center locations. You will soon see them within your regions. Well, if you have already hosted your website with them then you can raise a request for a change in data center location as soon as you find them in your location.
Rocket.net Plugins & Themes Management
This is another cool feature that I like the most. If any of your plugins malfunctions then you can't get direct access to your WordPress admin panel. All you have to do is go to your website cPanel/FTP and then change the folder name of the plugin. But with Rocket.net it's very simple.
All you have to do is go to the admin panel dashboard of your Rocket.net account and go to the themes and plugins section of your website that has issues.
Once you go there you will find the list of plugins and themes available on your website. You have to simply select the desired plugin and uninstall it. In this way, you are not making any changes within the files and folder of your website.
Once you have resolved the issue you can again activate the plugin for the Rocket.net dashboard or from your WordPress admin panel.
While talking these features seem to be very simple but when I have personally faced similar issues then this was the feature that helped me to restore my website within a few seconds.
Rocket.net Plans & Pricing
They offer very simple and straightforward plans. If you are a beginner then Rocket.net plans might come a little heavy on your pocket but if you can afford them then nothing like it.
Rocket.net plans and pricing is much cheaper than other fully managed WordPress hosting providers. They offer direct plans without any hidden charges.
The 30 days money-back offer also gives you more flexibility to check their plans without any hesitation.
All their plans offer the same features. The only difference is the resources that are available to you in terms of:
Number of WordPress sites
Monthly visits
Storage (disk space)
Bandwidth
You can simply select the plans for your website depending on the number of WordPress websites you want to host, storage space, and bandwidth. All other features which we have discussed earlier in this post come with all the plans.
Here are the simple prices with monthly billing:
The monthly plans are cheaper as compared to other fully managed WordPress hosting providers. But if you go for annual plans then you will get more additional discount.
You will be paying for 10 months instead of 12 months. Below are the prices with annual billing:
So if you really want to host your WordPress website with the fastest web hosting then Rocket.net is the right choice for you. You can simply try their hosting with a special promo for $1.
The $25 price offered by Rocket.net is similar to WP Engine or Kinsta Hosting. However, they offer you added advantage in terms of the resources offered as compared to other hostings.
Below is a simple comparison table for all three managed WordPress hostings.
Rocket.net vs Kinsta vs WP Engine
| | | | |
| --- | --- | --- | --- |
| Features | Rocket.net | Kinsta | WP Engine |
| Price | $30 | $30 | $30 |
| Websites | 1 | 1 | 1 |
| Visits | 250,000 | 25,000 | 25,000 |
| Storage | 10 GB | 10 GB | 10 GB |
| Bandwidth | 50 GB | 50 GB | 50 GB |
So from the above table, it is evident that Rocket.net actually offers you more at the same price. But if you go with the annual plan then the monthly cost will just come to $25/month.
While the other resources are identical, Rocket.net offers 10X the number of visits, which is a huge advantage if you have a high-traffic site.
Rocket.net also offers white-label reseller hosting plans. So if you want to sell their hosting under your brand name then you can do that for competitive rates.
Reseller Hosting plans offered by Rocket.net
So simply choose your plans as per your requirements.
Rocket.net Alternatives
If you are having a high-traffic website then Rocket.net could help you save some extra money as compared to other managed hosting providers.
If you are actually looking for managed WordPress hosting as an alternative to Rocket.net then here are some popular Rocket.net alternatives.
1. WP Engine
WP Engine is a web hosting firm that focuses on providing managed hosting services for websites that use the popular WordPress content management system. Although its headquarters and data centers are spread all over the world, they are headquartered in the United States.
WP Engine was founded on March 1, 2010, by Bullen Wilson, Ben Metcalfe, and Jason Cohen. One of the co-founders, Aaron Brazell, was an active part of the WordPress development community, and the three saw an opportunity to provide a better hosting solution for WordPress users.
The headquarters of WP Engine is in Austin, Texas. Their current branches are in London, San Francisco, San Antonio, and Limerick, Ireland.
2. Kinsta Hosting
Kinsta is a great choice for those who are prepared to spend a little more for not only great performance but also useful tools and built-in optimizations, as well as superb customer service.
That's the key: you can find hosts that perform comparably to Kinsta for a lower price, but they usually can't compete in terms of features, support, and the overall hands-off, "done for you" experience.
You'll get a fast-loading site with lots of useful features like automatic backups, staging sites, and more with no work on your part. And if something goes wrong, you have access to 24/7 assistance for just much anything.
WP Engine and Kinsta are also among the popular managed WordPress hostings but if you want to save some money for similar features then Rocket.net is for you.
You must make a smart choice for your money.
Rocket.net FAQs
Let's quickly look into Rocket.net's frequently asked questions.
What is Rocket.net Hosting?
Rocket Hosting is a fast, reliable, secure, and dedicated managed WordPress hosting provider offering best-in-class service at lower prices.
Does WordPress update prevent the hosting from working properly?
Rocket.net's dedicated support and developer team ensure that you never face such sort of an issue. But in case you have such issues then feel free to contact them for early resolution.
What are the payment options available?
The site uses Stripe and PayPal as its payment options. Hence, all the major credit and debit cards are accepted here.
Do you offer any discount for Rocket.net?
Yes, they are currently offering an initial offer of $1 for the first month. Additionally, you can get two months of free hosting with their annual plans.
Does Rocket.net have any money-back policy?
Yes, if you are unhappy with your purchase, Rocket.net offers a 30-day money-back guarantee.
Is Rocket.net the right web hosting for me?
If you are looking for a dedicated managed WordPress hosting that is fully SEO optimized to rank your website higher on the Google search engine then Rocket.net is the best choice for you.
What all types of support are offered by Rocket.net?
They provide help via phone, chat, and email 24/7/365.
Does Rocket.net offer free WordPress migrations?
Yes, they allow free migrations and free setup for your website from any web hosting provider.
Does Rocket.net work with caching plugin?
Yes, Rocket works seamlessly with all cache plugins. But we would recommend you use WP Rocket for your website.
Does Rocket.net offer real-time security for your website?
Yes, indeed. Their built-in website security package will take care of all your website security needs.
Which is the best plan for Rocket.net?
Rocket.net offers multiple plans depending on the resource requirements for your website. If your website is new then go with their basic plan. You can always migrate your current plan to a higher plan.
Does Rocket.net offer a free domain?
As of now, they are not offering domain services. You have to buy a domain from other domain service providers and then point them towards the Rocket.net servers.
Is Rocket compatible with all types of browsers?
What Is the Speed of Rocket.net Hosting?
Rocket.net guarantees the fastest page speed. This is done via their free CDN, which comes included with all services, as well as full-page caching. There are also Enterprise Servers and Fewer DNS Lookups options. In other words, Rocket.net guarantees that your website's PageSpeed and YSlow Scores will increase quickly or your money back.
What is the Uptime Rate of Rocket.net?
Rocket.net claims to have a 99.99 percent uptime on their website. This means that your website will be up and running practically all of the time, guaranteeing that sales and traffic are never harmed. It will be difficult to find a service with greater uptime.
Do we recommend Rocket.net Hosting?
Yes definitely! Even the current website you are browsing is hosted with Rocket.net.
Rocket.net offers email hosting?
As of now they are not offering email hosting. You have to use third-party email marketing services for the same. You can try Sendinblue, which is also being used by us. But they are surely having the plan to offer the same in the future.
Where is Rocket.net hosted?
Cloudflare Enterprise Network powers Rocket.net, ensuring improved speeds, uptime, and overall performance at a low cost.
Should You Use Rocket.net
Rocket.net is a dream come true for me. I definitely recommend it to everyone including my clients.
The platform comes with built-in features that reduce the need for paid WordPress plugins. Because security, malware scanning, image optimization, CDN, and JS content loaders are all incorporated into your new platform.
When it comes to choosing a host for your WordPress website, Rocket Hosting is a fantastic option. When picking a host for non-WordPress websites, however, it is not available.
Your content is delivered quickly around the world thanks to Litespeed servers and Cloudflare Enterprise CDN's 200+ caching locations.
I hope this Rocket.net review has given you a thorough understanding of all of its key features. By using my links, you can get a discount on any Rocket.net hosting package.
However, if you're still unsure, you may read evaluations of other major web servers on my blog.
If you liked this article, then please subscribe to our YouTube Channel for WordPress video tutorials. You can also find us on Twitter and Facebook.