If you want to take your business to the next level, then you must have these best WordPress plugins for your website. Whether you are having a personal blog or a business website these plugins are a must for each of them.
The number of plugins you install on your website, your website will get slowed down. It is always recommended to have good SEO-optimized WordPress web hosting for your website.
Well, here in this article we will also cover the plugins that are essential for making your website faster and consuming fewer resources on the server.
Having these WordPress plugins and tools can definitely take your business to the next level. These plugins are time-tested and picked by experts to promote their blogs.
Before we go ahead with these plugins one by one, it is important to know what are WordPress plugins.
What are WordPress Plugins?
A plugin is a piece of software containing a group of functions that can be simply added to a WordPress website to carry out a specific task.
The plugins have their predefined roles for which they are designed. They can extend the functionality or add new features to your WordPress website.
If you check the WordPress website you will find there are numerous plugins adding special features to your WordPress website.
The plugins are simple to install and can be configured from the WordPress admin panel itself.
How to install WordPress Plugins in a few simple steps?
It is correct that plugins use server resources for executing the assigned tasks. The more plugins, the slower will be your website.
You should be very specific while selecting the plugins.
However, in this article, we will cover the plugins that are used to boost the speed of your website.
This article covers all the WordPress plugins that are required for a successful business & personal website.
Let's get them listed one by one.
List of Best WordPress Plugins
We will be covering the best plugin and an alternative to that plugin.
Note: All these WordPress plugins are used on Bloggersutra and installed by our team when we start a new website for our own businesses or for clients.
1. WPForms: Best WordPress Form Plugin
Connecting with your visitors is most important for website owners. WPForms is the must-have plugin for all business websites.
It is a simple drag & drop-form builder with lots of features. It helps WordPress users to create custom registration forms and login forms.
The simple add-ons will help you to integrate your forms with the popular payment gateways. Recently WPForms has introduced the conversational form addon for creating beautiful conversational forms.
The form comes with a responsive mobile-friendly design with smart conditional logic.
We use WPForms on Bloggersutra and all other websites. In fact, we recommend it to all our client websites too. With over 1 million downloads WPForms is the most popular form plugin.
There's a free WPForms Lite version available for those who are looking for a simple solution.
But if you really want to grow your website or business then we will recommend you use the pro version.
The basic plan starts at $79. You can simply use the coupon code mentioned below to save a flat 50%.
Coupon code: SAVE50
Alternate WordPress Form Plugin: Formidable Forms
2. MonsterInsights: Best Google Analytics Plugin
Another best WordPress plugin we have on the list is MonsterInsights. It is a Google Analytics plugin for WordPress.
Google Analytics is very important to know how visitors are behaving on your website.
MonsterInsights does that very easily. It simply connects to the Google Analytics account and enables you to manage it from your WordPress admin panel.
The plugin shows real-time stats with universal tracking. It also offers tracking of Ecommerce, Ads, Referrals, and Affiliate links.
So whatever website you are running, you have the solution with one plugin. You can optimize your website based on the user activities on your website to take your business to the next level.
MonsterInsights is trusted by 2 million people and includes a few big brands.
MonsterInsights has a free version, but its true power of it only unlocks when you upgrade to the Pro version.
You can use our MonsterInsights coupon to get 50% off your purchase.
The plus plan starts from $199. You can simply use the coupon code mentioned below to save a flat 50%.
Coupon code: SAVE50
3. OptinMonster: Powerful Lead Generation Plugin
OptinMonster is a powerful lead-generation WordPress plugin. It helps to convert visitors into email subscribers.
It is a simple drag & drop builder with pre-made customized templates.
You can create unlimited campaigns and configure and activate them as per your requirements and show the right message at the right time.
OptinMonster also provides the performance analytics of all your campaigns to take smart decisions. The plugin can be integrated with third-party email marketing services and tools for better results.
Optinmonster is the must-have plugin for all bloggers, eCommerce websites,s, and business websites. You can make more money by channelizing your visitors toward the right products.
It helps you recover abandoned cart sales and grow your subscriber list.
The Basic plan starts from $19 pm but you can use the coupon code mentioned below to get 50% off.
Coupon code: SAVE50
Really Simple SSL is a great WordPress plugin to convert your entire website to HTTPS.
The HTTPS-enabled website is preferred by Google and ranks higher on the search engine as per a recent study.
This plugin converts all the URL links of your website into HTTPS and improves website security by enabling HTTP strict transport security.
The plugin comes in the free version as well. But if you don't want to comprise the security of your website then I would recommend using the Pro version.
The premium version of the plugin starts at €23 for a single website.
At Bloggersutra we use Really Simple SSL to ensure that our website works properly on HTTPS.
5. iZooto: Best Push Notification Service
Web push notification is the fastest-growing technology and is acquired by many bloggers and webmasters to promote their content to their visitors.
The service works by pushing the notification updates by the web browser. iZooto is currently the best web push notification service and is being used on our website too.
Additionally, it also allows you to promote posts and affiliate products to visitors with the help of push notifications. If you want to grow your business then iZooto is a must. It will help you get more conversion ratio.
The plugin comes with the free version with a limitation of 2500 subscribers. Once your subscribers are increased you can move to any paid plan easily.
The essential plan of the plugin starts at $25 pm.
Table by Supsystic is the best table generator plugin for word WordPress websites.
It also supports the woo-commerce products table to increase sales on e-commerce websites. The plugin allows you to create and manage tables from the WordPress admin panel.
The tables created are responsive data tables with sorting, filtering, graphs, and charts for product list views, order forms, wholesale, and product catalog checks.
The tables can be easily saved in pdf, CSV, and Xls formats. The plugin generates a simple shortcode that can be placed anywhere on the website to display tables.
The plugin is available in the free version but to take full advantage of the plugin you must go for the pro version.
The single-site license of the plugin starts at $39. You can also try a better WordPress tables plugin like wpDataTables.
7. Malcare: Best WordPress Security Plugin
Malcare is the best WordPress security and malware removal plugin. I am using this plugin for my website for the last year and have never faced any problems.
The best part of the plugin is that it uses its own servers to scan your website thus not utilizing your server resources. Your website will always run at peak speeds and you will not lose any visitors.
The user-friendly plugin dashboard will help you fix the website within 60 seconds.
The website can be directly fixed from the malcare plugin dashboard. Malcare also provides a staging area for your website so that you can check your website functionality before making any major changes.
MalCare uses the collective intelligence from its network of websites to detect and block threats from hackers and bots in real time.
The plugin algorithms go beyond signature matching to detect even the most difficult hack that is undetected by other plugins.
Malcare intimates the users by email whenever there is any problem with your website or when your website is inaccessible.
The plugin pricing starts from $8.25 per month and is billed annually. It cost less compared to other security plugins with advanced security.
8. Blogvault: Reliable WordPress Backup Plugin
Blogvault is the most reliable WordPress backup plugin. This plugin is being used on Bloggersutra to take automated backups.
There are many backup plugins available but this is the best.
Blogvault stores the website backup on their servers which can be accessed and downloaded at any time. The backup is incremental for the optimal utilization of your web server resources.
It allows you to deploy the backups on the staging site to check the credibility before moving to a live website. The powerful plugin dashboard allows you to directly install the backup through SFTP, thus saving time.
Blogvault allows 70% faster recovery of your website and also provides a feature to migrate the website directly from their dashboard from one server to another.
It allows the real-time backup of the Woo-commerce orders. The best part is that your website security and backups can be managed from a single dashboard.
Yes, the Malcare & Blogvault can be accessed from the single admin panel. So your website is secure with real-time backups.
The price of the plugin starts at $7.4 per month and is billed annually.
9. Yoast SEO: Best WordPress SEO Plugin
SEO is most important for every website. Google also prefers SEO-optimized websites. WordPress itself is SEO friendly but there is always a space for improvement for increasing your website traffic.
Yoast SEO WordPress plugin helps you make your website SEO friendly and rank higher on the search engines. The plugin offers the most comprehensive solution with all the features and tools that you need to improve your on-page SEO.
It helps you to generate a sitemap, connect to a google search console and also give the shortcomings of every blog post. You can select focus keywords to optimize your articles accordingly.
Yoast comes with a powerful Redirect feature that lets you easily create 301 redirects which are extremely helpful. It also detects the change of URLs and creates auto-redirects, so you don't have any broken links on your website.
The Yoast yearly plans start at $89 for single sites. You can choose the plan for multiple sites to get more discounts.
Also Read, How to score perfect 100% on Google Page Speed Insights
10. WP Coupons: Best WordPress Coupon Plugin
WP Coupons is the most powerful WordPress coupon plugin used by many webmasters.
At Bloggersutra, we are using the WP coupons for the last few years and never thought of using any other plugin.
Whether you have a blog, business website, or affiliate website, coupons are a must. Having plugins that provide you numerous features to increase the sale on your website.
The plugin comes with various styling and responsive layout options as per the theme of your website.
Web performance is also very important to us. The plugin doesn't use any JavaScript and is under 40 KB on the back end and under 2KB on the front end.
WP coupons come at a nominal price of $34.95 per year for a single website.
You can avail flat 10%discount by using the coupon code mentioned below.
Coupon Code: WPCOUPONS
Alternate WordPress Coupon Plugin: WPcoupons & Deals
11. WP Review: Best WordPress Review Plugin
WP Review is the best review plugin for WordPress websites and is one of my favorites.
Whether you have a business website, personal blog, or affiliate website, reviews are a must. It is observed that users like to read reviews of the products before actually purchasing them.
The plugin is developed by MyThemeShop to get you a better ranking on the search engines. So if you want to grow your business and improve sales then this WP review plugin is a must.
WP Review comes with 14 types of rich snippets and 16 predefined designs. The plugin supports Multiple Rating Systems (Star, Point, Percentage, Circle, Thumbs).
It can be configured to rate the comments of the users. The rich snippets will help you rank higher in search engines and increase conversations.
Well, if you are using any WordPress theme the plugin is compatible with all of them. The plugin allows you to integrate Google places reviews and Yelp reviews on your website.
The free version of the plugin is available but to make optimal use you must go with the pro version.
The WP Reviews Pro comes at a yearly price of $67.
12. Pretty Links: Best URL Shortener & Link clocker
Pretty Links is the best link management plugin for WordPress. If you are using affiliate links on your website then the plugins help you to shorten the link such that they are easy to remember for sharing.
The plugin helps you to unlock more affiliate revenue from the existing content by managing the links.
Even google does not prefer long links on websites. Apart from that, the long links are difficult to remember and manage.
Pretty Links allows you to simply add your affiliate links to WordPress once and have it place them intelligently through all your content automatically.
There is a free version of the plugin available. but to unlock all the functionalities you must go for Pro Version. The plugins come at a yearly price of $59. Avail of a 50% discount with the coupon code given below.
Coupon Code: 50OFF
So take your website affiliate income to the next level with Pretty Links Pro.
13. Social Warfare: Ultimate Social Sharing Plugin
Sharing your content on social media for generating more leads and traffic to the website is very important.
The social Warfare WordPress plugin will help you share your content on social media effectively.
The plugin adds beautiful and responsive social media buttons to your website and blog.
it comes with lightning-fast speed thus not affecting your website SEO and speed.
Additionally, the plugin provides the social recovery feature to restore your social sharing counts whenever you have moved your website to a different domain or installed an SSL certificate.
The plugin ensures that your visitors share your content in a way that's going to drive traffic back to your site with custom images, titles, and descriptions.
The free version of the plugin is available but with lots of limitations. If you want to drive more traffic to your website and increase sales then you must use the pro version.
The Social Warfare plugin comes with a yearly license of $29 for a single website. You have the flexibility of choosing the higher plans based on the number of websites.
14. WP Rocket: Best WordPress Caching Plugin
WP Rocket is the best WordPress caching plugin in the market. The plugin comes with an easy-to-configure interface and can be easily configured without any technical skills.
Google loves the fast website. It is seen that websites will slow loading speeds tend to lose visitors and ultimately revenue.
The plugin automatically activates the recommended WordPress caching settings like gzip compression, page cache, and cache pre-loading.
You can also turn on optional features like lazy loading images, CDN support, DNS pre-fetching, minification, and more to further improve page load times.
Their no version of the plugin available, so this plugin is meant for website owners who really want to take their business to the next level. WP-Rocket also offers Imagify which is a free image optimization service to help you speed up your website even further.
WP Rocket comes with yearly pricing of $49 for a single website. If you have multiple websites then you can go for the higher plans.
15. Autoptimize: Optimize WordPress Website
When it comes to speed Autoptimize again is a great choice. The plugin can be easily used with any WordPress caching plugin like WP Rocket.
It helps to improve the WordPress website speed by using Optimal CSS & JS Autoptimize configuration, tailored to your website.
The plugin also does the Optional critical CSS extraction for 1 page to attain even better results.
There is a free version of the plugin available, but if you want to optimize your website completely then go for the pro version.
The pro version of the plugin comes in two packages. Autoptimize Pro Configuration & Complete Speed Optimization.
The Complete Speed Optimization offers additional Caching configuration, both server-side and client-side along with Image optimization.
The Autoptimize Pro Configuration comes to a price of €149 & the Complete Speed Optimization is priced at €599.
We recommend using Autoptimize with WP Rocket for better optimization.
Insert header and footer is again a great free WordPress plugin for adding code snippets to your WordPress website.
However, most of WordPress themes allow you to enter additional codes to the header and footer of the website directly from the theme admin panel.
If your website is missing that configuration then this plugin is best for you.
Sometimes it is required to add additional codes to the website header and footers for verification, inserting ad retargeting scripts, etc.
This free plugin does everything for you.
WP Hide Login is again the free WordPress plugin to protect your admin page of the WordPress website.
By default, the login page of the WordPress website is "www.yourdomain.com/wp-config".
This plugin helps you to rename the default admin page as per your choice. Thus protecting your admin page URL from hackers.
By new login page of the WordPress website will be "www.yourdomain.com/your-name".
If you really want to protect your website then use this plugin along with Malcare & Blogvault.
18. AMP for WordPress: Create AMP Pages
AMP for WP is the best plugin for converting your website into AMP. The plugin easily converts your website homepage, posts, pages, and custom post types easily into AMP compatible.
It allows you to design the AMP home page with pre-defined templates. Additionally, the plugin also allows you to install the Google Adsense codes into AMP pages.
That means your AMP website pages will also monetize. AMP for WP can be easily integrated with the Yoast plugin for the complete optimization of the website.
It comes in both free and paid versions. The free version has some limitations. You can buy the additional extensions of the plugins each costing less than $10.
If you want to really optimize your website for AMP go for the premium version of the plugin.
19. Constant Contact: Email Marketing Tool
Email marketing is the most reliable marketing tool for business owners. It allows the webmaster to stay in touch with their visitors even after they have left the websites.
You can send newsletters and promotional emails about the latest and upcoming deals on your website. It not only helps to increase the good relation with your website visitors but also allows you to earn some additional income.
It is always recommended to create your email marketing list right away. Constant Contact is the most popular email marketing service provider in the world.
It allows you to easily integrate opt-in forms on your WordPress websites for converting your visitors into subscribers. Constant Contact allows you to put the conditional logic and integrate autoresponder to your subscribers.
The capability list of Constant Contact is huge and can't be covered in this article. We will recommend you take the free trial of the service. You can discontinue the service after the trial period if you are not satisfied.
It is a quick and easy setup for nontechie users. It also works well with popular lead generation plugins for WordPress like OptinMonster and WPForms.
It comes with a one-month free trial and then you will be charged based on your email list.
The minimum plan for a list of 500 subscribers is $20 per month.
20. Beaver Builder: Best WordPress Page Builder
Beaver Builder is a WordPress best drag & drop page builder plugin trusted by many business owners.
The plugin helps you to build your pages separately from the theme. It allows you to easily customize your website design and create custom page layouts without writing any code.
Business owners love Beaver Builder because they can create custom landing pages with few clicks and without any coding knowledge.
The plugin comes in a free version with limited functionalities. The premium version of the plugin starts from $99 yearly.
Additionally, you will get a 40% discount while renewing your subscription. The best part is you can use it on any number of websites.
Beaver Builder is not the only WordPress page builder out there. Others include the ever-popular Divi, Elementor, and many others. While Beaver Builder has a strong customer base, especially in the web development and web design space using WordPress, you might want to check out some articles that compare the different page builders, such as this article from CollectiveRay.com
21. MemberPress: Best WordPress Membership Plugin
MemberPress is the best WordPress plugin for creating a membership site. If you are planning to start a membership site then this is the best plugin for you. The plugin offers lots of features including creating subscription plans for members.
You can restrict the content to the members based on their selected subscription plans. The plugin easily integrates with popular payment gateways for accepting membership subscription fees.
MemberPress can be easily integrated with other 3rd party services including content management, forums, and social communities. It comes at a price of $129 per year for a single site.
If you want to use the plugin on more websites then you can choose the higher plans.
MemberPress is offering a 50% discount on all their yearly subscription plans using the coupon code given below.
Coupon Code: 50OFF
22. SeedProd: WP Maintenance Mode Plugin
SeedProd is the best coming-soon and WordPress maintenance mode plugin. If you are planning to launch and website in the near future and already bought the domain name then you can use this plugin.
The plugin allows you to create beautiful coming soon landing pages. It includes features like integration with your email marketing services, a countdown timer, social media integration, and dozens of templates to choose from.
SeedProd comes with yearly pricing of $29.60 for a single website.
Additionally, you can avail of a 20% discount with the coupon code given below.
Coupon Code: SAVE20
23. CSS Hero: CSS Customization Plugin
CSS plays an important role in a WordPress website in terms of design and visual appearance. For theme customization, you need to have knowledge of CSS.
CSS Hero WordPress plugin helps you to customize any WordPress theme by writing a single piece of code. The beautiful front of the plugin allows you to customize the theme with a few clicks.
It allows the live customization of WordPress themes based on the devices.
If you really want to customize your website appearance then you must go ahead and use CSS hero.
The plugin is available at a yearly price of $19 for a single website.
24. LearnDash: Best WordPress LMS Plugin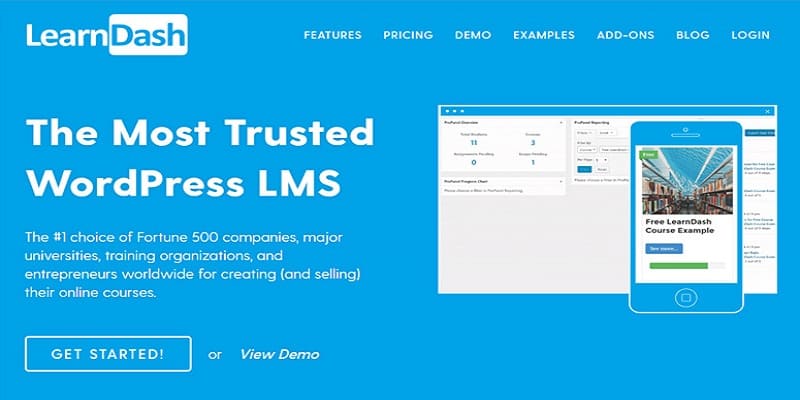 LearnDash is the best WordPress learning management system plugin. If you want to create and sell online courses then this is the best choice for you.
The plugin comes with easy drag & drop features for creating online courses.
It allows you to create user groups as per the courses, control enrollment, manage learner progress, and reward your learners.
LearnDash allows you to quickly add lessons, quizzes, and assignments to build your course.
It can be easily integrated with third-party plugins. You can choose from the variety of Add-ons available for carrying out the required task.
The Basic plan of the plugin comes with a yearly plan of $159 for a single website.
25. SEMRush: Best SEO Tool for Business Websites
SEMRush is the best all-in-one marketing toolkit for digital marketing owners and business owners. This toolkit is for people who really wanted to take their website to the next level.
It is as such not a WordPress plugin but it was important to add SEMrush to the list due to its importance in the overall development of business.
SEMRush helps you to improve SEO, search engine ranking, paid traffic strategy, social media & PR strategy.
The tool also allows you to carry out in-depth keyword research before selecting a topic for the article.
Additionally, it also offers backlink audit, spy on competitors, find the best-performing post on social media and improve ad strategy, and more.
Well, these are only a few services of the powerful SEMRush toolkit. If you want to check out all the features then you must try it free from the below link.
SEMRush comes at a monthly price of $99.95 per month. This plan is best suited for freelancers and startups.
If you are a marketing agency then you must go for higher plans.
26. Live Chat: Best Live Chat Support Software
Livechat is the best live chat support software for WordPress websites. If you are an eCommerce website or a business website where you need to interact with your customers to resolve their issue of providing the solution then this is the best software for you.
The best part of the software is that it can get easily integrated with WordPress websites.
Well, apart from the numerous features they also have a mobile app to get connected to your customers even on the move.
It integrates with your existing support software, CRM, email marketing, and other tools.
Most importantly, it loads fast and offers a great user experience.
27. WooCommerce: Popular eCommerce Plugin
WooCommerce is the most popular eCommerce plugin for WordPress. Well, there is hardly anyone who is hosting a WordPress website and is not aware of WooCommerce.
It is used by 4 million websites and gives you powerful features to start your own online store.
WooCommerce is the dominating eCommerce plugin and has established itself well in the market.
It has developed its own ecosystem and has WooCommerce Hostings,
WooCommerce Themes and WooCommerce plugins.
Even most of the developers have started building Woocommerce themes and plugins separately.
If you are planning to sell your products online or want to start your own online store WooCommerce is the choice for you.
Final Words About Best WordPress Plugins
If you are really looking to take your business to the next level then these WordPress plugins are a must.
All these plugins are used on our website and our client websites for better performance.
I have also provided alternate plugins but frankly speaking, their no alternative when it comes to improving your business.
If you feel that we have missed out on any of the essential plugins then do let us know by leaving a comment on this article.
We will personally review the plugin and add it to the list. We recommend you use these plugins per your website niche and requirements.
A few of the plugins mentioned are for every website despite the content or niche.
If you liked this article, then please subscribe to our YouTube Channel for WordPress video tutorials. You can also find us on Twitter and Facebook.