WordPress powers more than 45% of websites over the internet. It offers the flexibility to the webmaster to extend the features of their website by installing third-party plugins and themes. This tutorial will tell you the best GPL sites to buy premium WordPress plugins and themes in 2023.
If you are planning to start your blog or looking for premium plugins and themes for the existing blog then you must choose the best GPL site from the list below.
But for beginners who are really keen to start their own website/blog, Bloggersutra is offering a special deal. Under this deal, you can get 1-year free web hosting with a free domain name and access to premium WordPress plugins and themes. For more details about the deal click on the below link.
Get 1-Year Free Web hosting + Domain Name + Premium WordPress Plugins & Themes
Before we proceed further with the list of GPL sites it's important to know what is GPL and why these websites can provide these GPL plugins and themes for so cheap.
So Let's move ahead!
What is GPL (General Public License)
GPL or General Public License, sometimes called GNU license, is the most commonly used software license that guarantees or provides authority to users to use the software, redistribute and modify it. It was written by Richard Stallman of the Free Software Foundation for the GNU Project.
WordPress, its plugins, and themes also come under a GPL license, which means that WordPress is open-source software that can be used, modified, and extended by anyone.
The WordPress project considers the GPL license to be the philosophical equivalent of the Bill of Rights. It provides the core basic values that the project believes in.
Anyone can download and run the software
Anyone can modify it
Anyone can redistribute free copies of the software
Anyone can distribute modified versions of the software.
With this, it is clear that WordPress plugins and themes can be redistributed by the GPL sites mentioned below. Another important question comes is how these websites can offer these licenses at such a discounted price.
Why WordPress Is Licensed under the GPL
The GPL is what makes WordPress what it is. Since its beginnings and up until the present, the most widely used content management system in the world has benefited from the input of literally thousands of individuals in a way that is simply not feasible with proprietary software.
WordPress was actually a fork of b2/catalog, which was 'free software' in and of itself; it would not have existed without the idea of free software.
Matt Mullenweg, a co-founder of WordPress, is undoubtedly one of the most influential people in the world when it comes to "free software." His obvious goal when he founded WordPress.com was to "democratize publishing". He places a lot of importance on the GPL principles (as you will see).
How the GPL Benefits WordPress Developers and End Users
It's simple to worry about what the GPL might imply for your business as a WordPress entrepreneur, but it's far more valuable to see how it actually affects things.
History has shown that the WordPress community doesn't operate as cynically as one may anticipate it to for three main reasons:
Most individuals are naturally sincere. There are many more people who are willing to pay for something that is for sale – even if they can obtain it for free – than there are people who are happy to "steal" items (even though doing so is prohibited by GPL licensing).
The GPL is not well understood by many people. Knowing something is free to use and knowing how to get it for free both require a certain level of savviness. The typical user won't download a plugin from Github if it's labeled as such 'premium' even if it's there; instead, they'll obtain it from the most obvious place.
'Buying' premium GPL products has advantages. Even while a GPL premium plugin may be 'freely' accessible, it is perfectly acceptable to sell additional services that the end user may find extremely helpful, such as support and automated upgrades. You'll discover that many modern premium theme and plugin companies use this technique to sell their products, even though they don't explicitly state that their products are free to use under the GPL license.
As a result of everything mentioned above, you as a developer enjoy all the advantages of the GPL, including its power, sense of community, and ethical do-goodery, without experiencing any of its anticipated drawbacks.
The GPL doesn't apply to non-distributed work, which includes the unique work you create for a single client, which is even better news for WordPress developers that work with clients. You don't need to be concerned about GPL compliance if you're undertaking this kind of job.
How GPL Plugins & Themes are Offered So Cheap?
The GPL plugins and themes are offered so cheaply due to the following reasons:
All WordPress items such as plugins and themes are licensed under the General Public Licence (GPL).
Once these items are purchased by the respective GPL sites owner then they are free to redistribute them.
The amount paid on these GPL sites is used to maintain the website and purchase new third-party WordPress plugins and themes.
This form of crowdfunding helps keep prices low and then they can pass this benefit on to their customers.
The products don't include premium support. That's why these websites can offer up to 95% discounts on must-have commercial WordPress plugins and themes.
Why Should You Buy Products on GPL Sites?
Lower price.
Original WordPress plugins and theme files without malware, viruses, or advertising.
All products work on an unlimited number of websites (unlimited site license).
All products can be downloaded from the direct link.
All WordPress plugins and themes are regularly updated and new products are added time-to-time.
Till now you must have understood that GPL sites are the best alternative to buying premium WordPress plugins and themes at the lowest prices.
But you have to always buy these products from the reliable GPL website and not from any website. There are a few websites that offer these GPL products for free. But the free products downloaded from these websites are nulled and will be dangerous for your websites.
The nulled GPL WordPress plugins and themes are modified and inserted with malware which can share your website content with a third party or your websites can be easily hacked.
So it is very important to purchase these contents from the reliable and tested GPL sites mentioned below in the list. So, without wasting much of your time let's jump directly to the list of best GPL sites to Buy WordPress Plugins & Themes.
Best GPL Sites to Buy WordPress/WooCommerce Plugins & Themes
Remember that these sites are not the real publishers they just buy those themes from real publishers and sell them to you at less price & don't provide any support like real developers do. If you want to make your site professional and don't want to take risks and need premium support then I suggest you buy those themes & plugins from real developers.
Let's jump to the best GPL sites…
1. GPLDownload.com (Best GPL Site)
GPLdownload.com is the best website to offer original GPL WordPress plugins and themes at a discounted price. They offer more than 4400+ WordPress plugins and themes and still counting. They provide you themes & plugins without any modification, which means there is no risk of using the products bought from them.
Each WordPress plugin and theme listed on their website can be purchased for $2.49 with one year license. Alternatively, they offer membership plans on their website to access all the premium content on their website. The various membership plans offered by GPL download are:
Monthly Membership Plan – $6.99/mo (5 Download per day)
Yearly Membership Plan – $39.99/mo (10 Download per day)
5-Year Membership Plan – $69.99/mo (20 Download per day)
Lifetime Membership Plan – $99.99/mo (20 Download per day)
But the best part of GPLdownload.com
Bloggersutra has tied up with GPL download to provide an additional 65% discount on all the membership plans. That means the yearly membership plan will cost you $39.99/year. This is the cheapest price that is offered by any GPL site.
So if you are planning to start your own website or want plugins for your existing website then GPL download is the best choice for you. Click the link below to buy a GPL download membership at a discount.
Deal 1 – Get Yearly Membership at $19.99/year (Apply Coupon Code "SHANAISHA" on Yearly membership plan)
Deal 2 – Get 10% off membership plans (Apply Coupon code "GPLDOWNLOAD10")
2. GPL Love
GPL Love arrived on the market last year and has meanwhile grown to one of the main forerunners. Most of the widely used themes and plugins are available on the website. The website adds new products every day, based on bestsellers and customer requests. A plugin costs 2.99 dollars, making this site one of the cheapest on the market.
What makes this site better than others is its customer service, and this is also clearly revealed in the reviews. The technical support given is quick and efficient, sometimes even going beyond the plugin sphere. GPL love is translated into 3 languages, making ordering for non-English speakers much easier.
They have a membership plan for as low as one day at 5.99 dollars. The membership is not recurring, this avoids people from having to remember to cancel the membership. While other sites limit the downloads in their memberships, this site is offering unlimited downloads.
Some things to pay attention to are a monthly competition to be launched in the coming weeks to win free memberships and an affiliate program to get more discounts.
1 Day subscription: 5.99 dollars, unlimited downloads
1-month subscription: 9.99 dollars, unlimited downloads
6-month subscription: 34.99 dollars, unlimited downloads
1 Year subscription: 59.99 dollars, unlimited downloads
GPL Love is offering an exclusive coupon for our readers. Use the code BLOGGERSUTRA3FOR2 to benefit from the "pay two get one free" promo.
3. Festingervault.com
Festingervault is a highly popular website offering 5000+ WordPress premium plugins and themes costing $200,000. You will find all the popular plugins and themes required to build a successful WordPress website.
The automatic updates feature gives you an added advantage over other GPL sites. So just sit and relax and all WordPress plugins and themes installed on your websites will be automatically updated from their database.
The website provides 100% genuine and original products. The 24/7 customer support features are always available at your fingertip to help you with their services.
Festingervault offers a wide variety of plans depending on the user's requirements. You can either purchase the monthly/yearly/lifetime membership plans or go with a single WordPress plugin/theme with one-year automatic updates. The various plans offered by them are:
Riding Solo – $15/month or $9/month when purchased annually (10 downloads/day)
Flying High – $25/month or $19/month when purchased annually (35 downloads/day)
Spaceman – $25/month or $29/month when purchased annually (35 downloads/day)
Lifetime – $299 one-time fee with unlimited downloads
You can choose the best plan depending on your needs. However, I would personally recommend you go ahead with a long-term plan to save some extra bucks and get rid of monthly renewals.
4. Srmehranclub.com
Srmehranclub.com is the most popular website providing 16300+ Premium GPL Themes, Templates & GPL Plugins Since 2016. Having a customer base of more than 42,500+ with more than 12 million downloads it is among the top contender for becoming the No.1 GPL site.
With a 4.7 star ranking on Trustpilot, the website is trusted by thousands of customers who download the GPL content daily from it. Apart from offering cheap membership plans the website also offers a 7-day money-back guarantee.
With a wide range of authentic and verified products, it is the most trustworthy site offering 24/7 customer support to its clients.
The most exciting part is that apart from providing only an automatic update, Srmehran provides a toolkit update plugin as well, Using our toolkit plugin customers can manage all their WordPress websites at one dashboard from their Website. It will help save you a huge time in managing your sites.
Srmehranclub offer vide varieties of plans. You can purchase a single plugin/theme with one-year automatic updates or go ahead with membership plans to save more. The various plans are:
Standard Plan – $29 for 1st month and then $15/mo (Total 420 downloads)
Semester Plan – $59 for 6 months and then $49 every next 6 months (Total 2700 downloads)
Premium Plan – $75 for 1 year and then $69 yearly (Total of 5400 downloads)
Lifetime Plan – $107 for a lifetime (Total of 7200 downloads)
Super One Plan – $2900 for a lifetime (Unlimited downloads with dedicated account manager)
You can choose the best plan depending on your needs. Srmehrnclub is regularly adding more and more themes and plugins to its repository. With every plan, you will get access to the newly added content too.
Get a 10% discount on all products and membership plans. Apply coupon code "bloggersutra".
5. GPL Rock
GPL Rock is one of the most affordable GPL websites. I find this website to be very user-friendly. From this website, I bought RankMath, Elementor Pro, Schema Pro, and additional WordPress Themes.
For just Rs. 249, they offer more than 4000 premium WordPress themes, plugins, and templates. For just Rs. 499, you may join and gain access to all 4000+ products.
Features of GPLrock:-
4000+ WordPress Premium Theme, Plugin, Woocommerce Extensions, and Web Templates are available.
Daily Updates
Whatsapp Chat Support
Original and Secured Files
6. ThemePrice.com (Avoid)
Themeprice is among the most popular GPL Sites housing over 4000+ premium WordPress themes, plugins, and templates. The products offered by the website are 100% original and are offered at a discounted price.
The best part is the website offers Automatic Updates for its users. So you don't have to manually update the plugins and themes like other GPL sites. Individual plugins and themes are offered at $4 per product. So if you are looking for a single plugin or theme then it will cost just $4 for one year. Within one year Themeprice will provide all the updates for the same plugin.
However, if you are planning to start a complete website and require most of the premium plugins then you must go ahead with membership plans. The various membership plans offered by Themeprice are: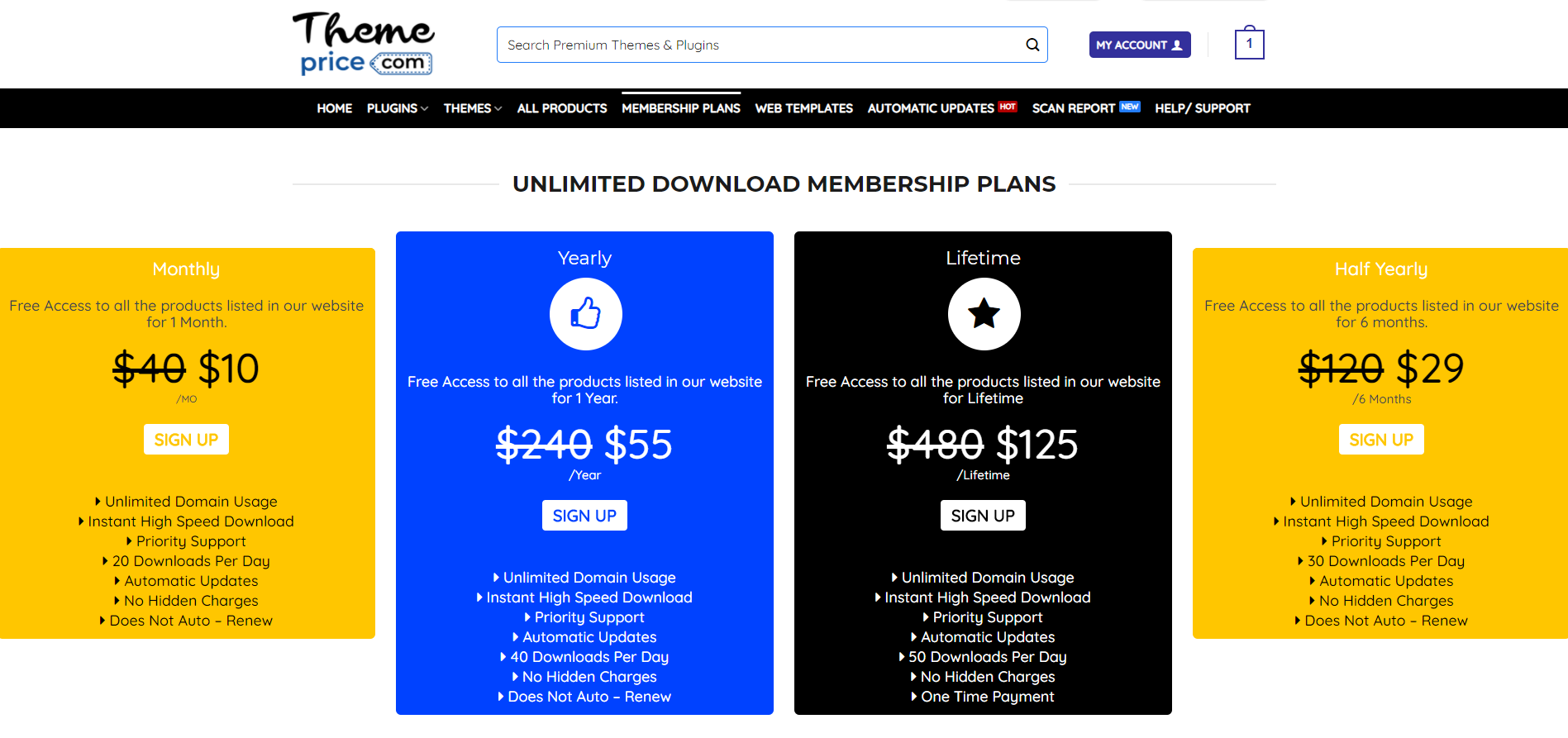 Monthly Plan – $10/mo with 20 downloads limit per day
Half Yearly Plan – $29/6 months with 30 downloads limit per day
Yearly Plan – $55/year with 40 downloads limit per day
Lifetime Plan – $125/lifetime with 50 downloads limit per day
So you can choose the plan according to your website and business requirements.
Another cool feature that they have recently introduced is "Scan Report", yes you can check the scan report of each plugin and theme to check if they are free from all malware. Theme price offers limited support for the plugins and themes. If you are looking for support then you must purchase each plugin and theme from their respective vendors which will be very costly.
So I think the limited support for plugins and themes is great when you are getting them at such a cool price. If you are planning to buy the GPL sites membership then Themeprice will be a good choice.
Wrapping Up Best GPL Sites
WordPress is the best content management system powering millions of websites over the internet. Plugins and themes form an important part of WordPress as it provides additional features to your website.
The regular license of these WordPress plugins and themes costs heavily. But the best GPL sites we have mentioned in this article offer you those WordPress premium content for a death cheap price.
However, you have to be very careful while selecting the GPL site to download the premium WordPress content. Downloading them from an unreliable website can compromise the security of your website.
Carefully analyzing the various GPL websites we will recommend you GPLdownload.com to download the original WordPress plugins and themes.
Deal 1 – Get Yearly Membership at $19.99/year (Apply Coupon Code "SHANAISHA" on Yearly membership plan)
Deal 2 – Get 10% off membership plans (Apply Coupon code "GPLDOWNLOAD10")
"Sharing is Caring: Please support us by sharing it with your friends and on social media"
So don't miss the deal use premium WordPress plugins and themes on your website for a very cheap price.
If you face any difficulty while grabbing the deal then feel free to comment at the end of this article and we will be happy to assist you.
Also, Read
If you liked this article, then please subscribe to our YouTube Channel for WordPress video tutorials. You can also find us on Twitter and Facebook.