WordPress powers more than 45% of the websites over the internet. It offers the flexibility to the webmaster to extend the features of their website by installing third-party plugins and themes. This tutorial will tell you the best GPL sites to buy premium WordPress plugins and themes in 2020.
If you are planning to start your blog or looking for premium plugins and themes for the existing blog then you must choose the best GPL site from the list below.
But for beginners who are really keen to start their own website/blog, Bloggersutra is offering a special deal. Under this deal, you can get 1-year free web hosting with the free domain name and access to premium WordPress plugins and themes. For more details about the deal click on the below link.
Get 1-Year Free Web hosting + Domain Name + Premium WordPress Plugins & Themes
Before we proceed further with the list of GPL sites it's important to know what is GPL and why these websites are able to provide these GPL plugins and themes for so cheap.
So Let's move ahead!
What is GPL (General Public License)
GPL or General Public License, some times called as GNU license, is the most commonly used software license that guarantees or provides authority to users to use the software, redistribute and modify it. It was written by Richard Stallman of the Free Software Foundation for the GNU Project.
WordPress, its plugins, and themes also come under a GPL license, which means that WordPress is open-source software that can be used, modified, and extended by anyone.
The WordPress project considers the GPL license to be its philosophical equivalent of the bill of rights. It provides the core basic values that the project believes in.
Anyone can download and run the software
Anyone can modify it
Anyone can redistribute free copies of the software
Anyone can distribute modified versions of the software.
With this, it is clear that WordPress plugins and themes can be redistributed by the GPL sites mentioned below. Another important question comes is how these websites are able to offer these licenses at such a discounted price.
How GPL Plugins & Themes are Offered So Cheap?
The GPL plugins and themes are offered so cheap due to following reasons:
All WordPress items such as plugins and themes are licensed under the General Public Licence (GPL).
Once these items are purchased by the respective GPL sites owner then they are free to redistribute it.
The amount paid on these GPL sites is used to maintain the website and purchase new third party WordPress plugins and themes.
This form of crowd funding helps keep prices low and then they can pass this benefit on to their customers.
The products don't include premium support. That's why these websites can offer up to 95% discounts on must-have commercial WordPress plugins and themes.
Why Should You Buy products on GPL Sites?
Lower price.
Original WordPress plugins and theme files without malware, viruses, or advertising.
All products work on an unlimited number of websites (unlimited site license).
All products can be downloaded from the direct link.
All WordPress plugins and themes are regularly updated and new products are added time-to-time.
Till now you must have understood that the GPL sites are the best alternative to buy premium WordPress plugins and themes at lowest prices.
But you have to always buy these products from the reliable GPL website and not from any website. There are a few of the websites which offer these GPL products for free. But the free products downloaded from these websites are nulled and will be dangerous for your websites.
The nulled GPL WordPress plugins and themes are modified and inserted with malware which can share your website content with third party or your websites can be easily hacked.
So it is very important to purchase these contents from the reliable and tested GPL sites mentioned below in the list. So, without wasting much of your time let's jump directly to the list of best GPL sites to Buy WordPress Plugins & Themes in 2020.
Best GPL Sites to Buy WordPress Plugins & Themes
Remember that these sites are not the real publishers they just but those themes from real publishers and sell them to you at less price & don't provide any support like real developers do. If you want to make your site professional and don't want to take risks and need premium support then I suggest you buy those themes & plugins from real developers.
Let's jump to best GPL sites..
1. GPLDownload.com (Highly Recommended)
GPLdownload.com is the best website to offer original GPL WordPress plugins and themes at a discounted price. They offer more than 4400+ WordPress plugins and themes and still counting. They provide you themes & plugins without any modification, which means there is no risk of using the products bought from them.
Each WordPress plugins and themes listed on their website can be purchased for $3.99 with one year license. Alternatively, they offer membership plans on their website to access all the premium content on their website. Ther various membership plans offered by GPLdownload are:
Monthly Membership Plan – $49/mo (5 Download per day)
Yearly Membership Plan – $99/mo (10 Download per day)
5 Year Membership Plan – $199/mo (20 Download per day)
Lifetime Membership Plan – $299/mo (30 Download per day)
GPLdownload also offers a free 7 days trial period to test the plugins. During the trial period, you can download 1 WordPress plugin/theme per day.
But the best part of GPLdownload.com
Bloggersutra has tied up with GPLdownload to provide an additional 65% discount on all the membership plans. That means the yearly membership plan will cost you $34.65/year. This is the cheapest price that is offered by any GPL sites.
So if you are planning to start your own website or want plugins for your existing website then GPLdownload is the best choice for you. Click the link below to buy GPLdownlod membership at a 65% discount.
Apply Coupon Code: BLOGGERSUTRA65
Note: If you need more discount then give a review on one of their product and they will provide you $1 discount coupon.
2. GPL Love (Recommended)
GPL Love is a new player on the market but has already become a strong forerunner. The site is still building up its range of plugins and themes, but already a beautiful range of more than 2000 WordPress and Woocommerce plugins and themes are available. The website adds new plugins every day, based on the best sellers and customer requests through their chat.
With a price per plugin of only 2.99 dollars, they are definitely one of the cheapest on the market. For the moment several promotion codes are also running on the website, decreasing the prices even further down. You would think that the cheap price means less service, but nothing is less true. The plugins are still like the other sites updated for free.
Many reviews have mentioned the great technical help they get with their purchase, from download issues to website integration matters. GPL Love is translated into 4 languages, making ordering for non-English speakers much easier.
What's also interesting about them is their membership plans. They have a membership plan for as low as one day at 5.99 dollars. The membership is not recurring, this avoids people having to remember to cancel the membership. While other sites limit the downloads in their memberships, this site is offering unlimited downloads.
1 Day subscription: 5.99 dollars, unlimited downloads
1-month subscription: 9.99 dollars, unlimited downloads
6-month subscription: 34.99 dollars, unlimited downloads
1 Year subscription: 59.99 dollars, unlimited downloads
Gpl love is offering an exclusive coupon for our readers. Use the code BLOGGERSUTRA3FOR2 to benefit from the "pay two get one free" promo.
3. ThemePrice.com
Themeprice is among the most popular GPL Sites housing over 4000+ premium WordPress themes, plugins and templates. The products offered by the website are 100% original and are offered at a discounted price.
The best part is the website offers Automatic Updates for its users. So you don't have to manually update the plugins and themes like other GPL sites. Indivisual plugins and themes are offered at a price of $4 per product. So if you are looking for single plugin or theme then it will cost just $4 for one year. Within one year Themeprice will provide all the updates for the same plugin.
However, if you are planning to start a complete website and require most of the premium plugins then you must go ahead with membership plans. The various membership plans offered by Themeprice are: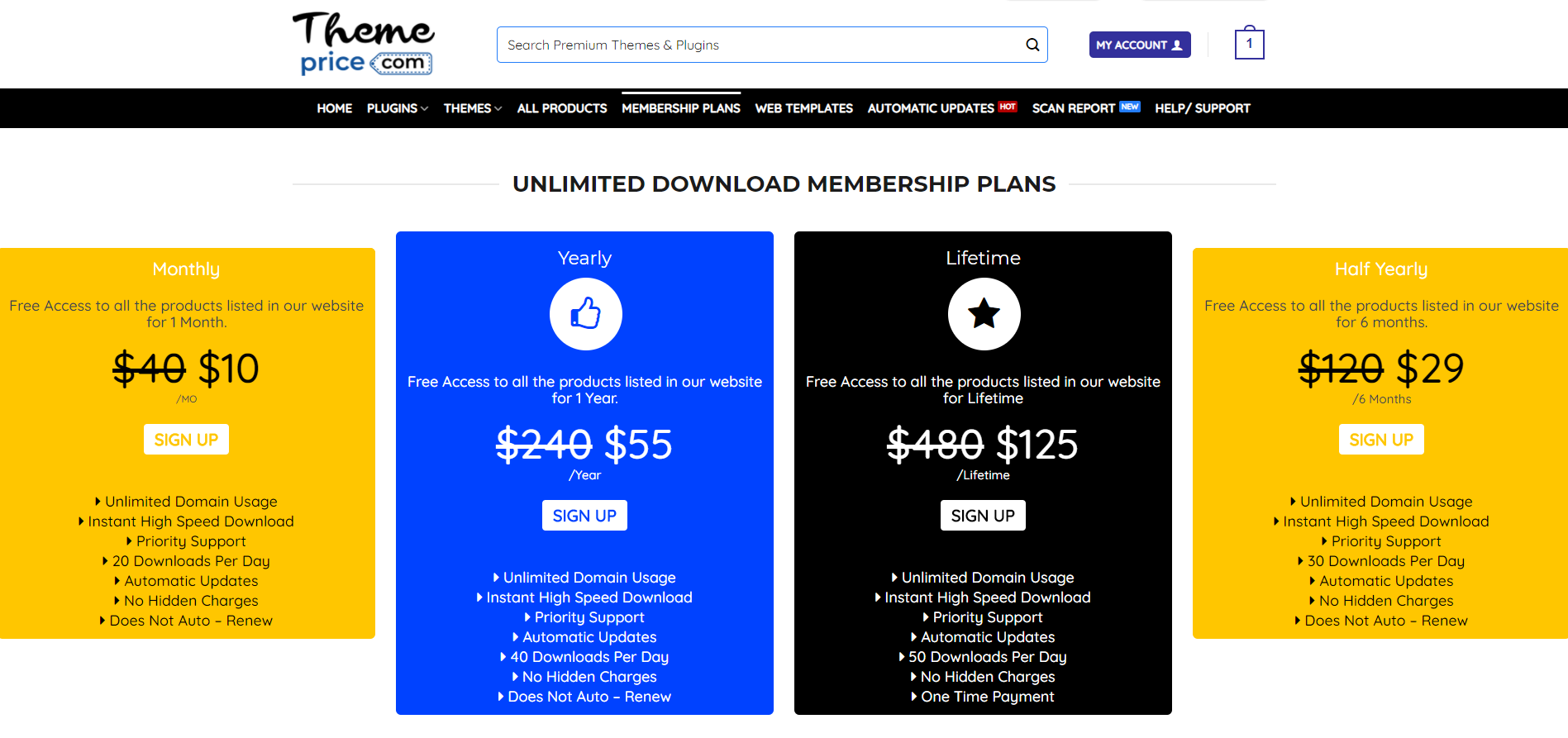 Monthly Plan – $10/mo with 20 downloads limit per day
Half Yearly Plan – $29/6 months with 30 downloads limit per day
Yearly Plan – $55/year with 40 downloads limit per day
Lifetime Plan – $125/lifetime with 50 downloads limit per day
So you can choose the plan according to your website and business requirements.
Another cool feature which they have recently introduced is "Scan Report", yes you can check the scan report of each plugin and themes to check if they are free from all malware's. Theme price offers limited support for the plugins and themes. If you are looking to for support then you must purchase each plugin and themes from their respective vendors and which will be very costly.
So I think the limited support for plugins and themes are great when you are getting them at such a cool price. If you are planning to buy the GPL sites membership then Themeprice will be a good choice.
Wrapping Up Best GPL Sites
WordPress is the best content management system powering millions of websites over the internet. Plugins and themes form an important part of WordPress as it provides additional features to your website.
The regular license of these WordPress plugins and themes cost heavily. But the best GPL sites we have mentioned in this article offer you those WordPress premium content for death cheap price.
However, you have to very careful while selecting the GPL site to download the premium WordPress content. Download them from an unreliable website can compromise the security of your website.
Carefully analyzing the various GPL websites we will recommend you GPLdownload.com to download the original WordPress plugins and themes.
GPLdownload offers a flat 65% discount to Bloggersutra readers over their regular pricing. To avail, the discount simply clicks on the link below and apply coupon code "BLOGGERSUTRA65".
"Sharing is Caring: Please support us by sharing it with your friends and on social media"
So don't miss the deal use premium WordPress plugins and themes on your website for very cheap price.
If you face any difficulty while grabbing the deal then feel free to comment at the end of this article and we will be happy to assist you.
Also Read,
If you liked this article, then please subscribe to our YouTube Channel for WordPress video tutorials. You can also find us on Twitter and Facebook.