Do you really require WordPress backup plugins? This question comes to the mind of every blogger. Well, the answer is yes you require the Best WordPress backup plugin for your own peace of mind.
It comes as a nightmare when your website is hacked or any plugin malfunctions and your website is down. In all cases, you should have a real-time backup for your website so that you can restore it.
There are several paid and free WordPress backup plugins available that are fairly easier to use. We will show the 22 best WordPress backup plugins out of the tons available in the market.
Important: Many WordPress hosting providers offer limited backups for your website as part of their hosting plan. It is your responsibility that you should manually take the backup for your WordPress website to avoid any unforeseen circumstances.
If you have still not chosen your backup plugin you can choose one from the list of best WordPress backup plugins and start using it the right way.
Alternative to WordPress Backup Plugins
With increasing technology and competition you have to rethink using the backup plugins for your WordPress website. Whether the plugin stores the data within the server or with a third party, it increases the load on the website and consumes your hosting bandwidth.
So what should be done instead of using WordPress backup plugins?
The answer is to buy good web hosting services which offer you free daily backups for your website and database. One such hosting that I recommend to my clients is HostArmada.
HostArmada offers daily backups for your WordPress website and doesn't come heavy on your pocket. The basic shared hosting plan starts at $1.20/month with a free domain name and SSL certificate.
Read In-depth HostArmada Review to Know the Complete Feature List
But if you have still made up your mind to use the WordPress backup plugin on your WordPress website then let's directly jump on to the list.
Best WordPress Backup Plugins 2023
Let's start exploring WordPress backup plugins one by one.
1. Blogvault (Recommended)
At Bloggersutra we use Blogvault to back up our website. BlogVault is a powerful and the most reliable WordPress backup plugin that powers over 240,000 WordPress sites. With BlogVault, your backups will always work and will never overload your servers.
It comes with built-in migration, staging, merging, site management, and a powerful security solution. Blogvault is the only backup service that offers a Real-Time backup solution for WooCommerce sites.
Blogvault also provides the flexibility of directly migrating your website backup from one hosting provider to another, thus your website migration will never be a problem.
It has been serving the WordPress community for more than eight years and has a client base that is spread across 150 countries.
Their user-friendly dashboard will help you manage your website backup in a few clicks and reinstall them to your server whenever required. You can also download the backup directly to your PC from their dashboard.
The best part of the plugin is that it can be bought together with the Malcare WordPress security plugin as a combo offer.
2. UpdraftPlus
UpdraftPlus comes both in a free WordPress plugin and a premium version WordPress plugin and has a rating of 4.8/5. It is easy to use and helps you create scheduled and on-demand backups for your website.
It creates the complete backup for your website and stores it either on the cloud or you can directly download it to your personal computer.
The plugin also allows you to directly upload the backups to Dropbox, Google Drive, S3, Rackspace, FTP, SFTP, email, and several other cloud storage services.
UpdraftPlus is also available as a premium version. The premium version of the WordPress backup plugin gives you a gigabyte of backup storage on the Updraft Vault and additional backup options (including Microsoft OneDrive, SCP, WebDAV, and OpenStack Swift), and secure FTP.
The plugin also has the ability to clone databases, an automatic backup when updating WordPress themes, and the ability to send backups to remote destinations.
The premium version costs between $70 and $145, depending on how many sites you're planning on installing the plugin.
Try UpdraftPlus WordPress Backup Plugin
3. Backup Buddy
Backup buddy is among the most popular WordPress backup plugin used on thousands of WordPress websites across the globe. The plugin comes in the premium version, but it is worth the money.
It can also automatically store your backups in Dropbox, Amazon S3, Rackspace Cloud, FTP, and Stash (their cloud service), and even email them to yourself.
The WordPress plugin also supports the real-time backup of your WordPress website. To activate the real-time backup service you have to use their stash service.
The best part of the backup buddy WordPress backup plugin is that plugin doesn't come with any monthly subscription plans. They have a one-time payment option offering tons of features.
You can use the plugin on the number of sites mentioned in your plan. With every plan, you also get access to premium support forums, regular updates, and 1GB of cloud storage to store your backups.
BackupBuddy WordPress backup plugin can even be used to duplicate, migrate and restore websites.
Try Backup Buddy WordPress Backup Plugin
4. VaultPress
VaultPress was founded by Matt Mullenweg (WordPress co-founder) and his team at Automattic. It has recently become part of Automattic's other product called JetPack.
You will need a JetPack subscription plan to use VaultPress. There are different pricing plans with a different set of features as per your requirement.
The lowest Vaultpress plan offering an automated real-time cloud backup solution starts with a plan of $3.50 per month. The installation and setup of the Vaultpress WordPress backup plugin is a matter of just a few clicks.
Unlike other plugins, it also offers a security scan of websites to detect any malware or unauthorized activity.
The disadvantage of Vaultpress is that you need a wordpress.com account and the jetpack plugin needs to be installed on your website. Also, monthly subscription plans come heavy as a monthly expense in case you are having multiple WordPress websites.
Another important part of this WordPress backup plugin is that it offers only 30 days archive period as part of their lowest subscription plan. If you want an unlimited subscription then you have to upgrade your plan to $ 29 per month.
This plugin offers tons of features and definitely, and it deserves a try.
Try VaultPress WordPress Backup Plugin
5. MyRepono
The MyRepono WordPress backup plugin is yet another powerful backup plugin. The plugin is not much popular but has a very good rating.
It gives the flexibility to take automatic scheduled backups for your website. The backup can even be scheduled every hour, day, week, or month depending on the user's requirement.
Apart from automatic scheduled backup it also offers a series of back and restoration tools from its website myrepono.com, the services are however paid but offer the flexibility to pay as you go. That means you pay for what you use.
With their payment plans, it doesn't pinch your pocket much. Thus the plugin is great and easily affordable.
Try myRepono WordPress Backup Plugin
6. BackWPUp
BackWPUp is also a free WordPress backup plugin that allows you to create a backup for your WordPress website for free. The plugin is easy to use and allows you to schedule backups as per the update frequency of your website.
It stores the backup on the cloud (Dropbox, Amazon S3, Rackspace, etc), FTP, email, or on your computer. The database scanning, optimization, and repair features are included in the plugin.
Restoring the backup in BackWPUp is also very simple. The backup can be restored in a few clicks.
The plugin also comes with premium plans offering priority support, the ability to store the backup in google dropbox, and the number of websites on which the plugin can be used. Apart from this it also offers some other cool features too.
If you are planning to use a free WordPress backup plugin then BackWPUp is also a considerable option.
Try BackWPUP WordPress Backup Plugin
7. Duplicator
Duplicator is mainly a WordPress migration plugin, but it has a backup feature too. The plugin has the capability to migrate, copy and clone the entire website.
This WordPress backup plugin comes in handy during WordPress website migration from one server to another server. It does not support the scheduled website backup feature and all backups need to be taken manually.
The plugin requires above-average technical knowledge skills as per the author and hence it is not much recommended for beginners.
If you have good technical knowledge you can give it a try, but remember to back up your website before making any changes to the website.
Try Duplicator WordPress Backup Plugin
8. WP-DB-Backup
WP-DB-Backup is the most popular WordPress backup plugin with almost 4,00,000 active downloads and still counting. The only problem with the plugin is that it only takes the backup of the WordPress database rather than the complete website.
This plugin is best for websites that are not regularly updated and have very fewer media files. For such websites, you can easily take a backup of the database.
In case your website is regularly updated then you have to take the backup of files including media files manually.
For bloggers who don't have the access to PHPMyAdmin directly can use this plugin extensively to take scheduled backup of the database and restore it whenever required.
Well, in my opinion, you must use the plugin which is offering both website and database backup. You must definitely try with blogvault real-time WordPress backup plugin.
Try WP-DB-Backup WordPress Plugin
9. Backup WordPress
Backup WordPress plugin allows the complete backup of your WordPress website including the database files. The plugin is available in free and premium versions.
The limitations of the free WordPress backup plugin version are that it doesn't allow backup storage in the cloud. You have to store the backup within your web server itself.
By default, the backup files including the database are stored in the /wp-content/backups folder. However, you can change the default storage path of the plugin from the plugin control panel. It is recommended that the default storage path should be changed for security reasons.
If you want to store your backups on Dropbox, Google Drive, FTP, etc, then you will need to purchase a premium extension for it. The extensions are available for each service, and you can buy the one you need or the whole bundle.
The plugin can work on Linux and Windows servers alike. It also enables you to exclude the files you don't want to back up.
10. BackWPup Free
BackWPup Free is also among the popular free WordPress backup plugin having more than 3,00,000 downloads. The plugin is, however, not rated much positively by the users. It has a rating of 3.8/5.
The plugin gives you the option to use an external backup service such as Dropbox, Rackspace Cloud, SugarSync, or S3. It also allows you to FTP the backup files to the server of your choice.
The WordPress plugin is free of cost but a premium version of the plugin is also available offering support for the plugin. Also, the premium version of BackWPup Free is offering data backup to google drive and Amazon Glacier.
BackWPup Free also offers the amazing feature of optimizing, backup, and restoration of the WordPress database. You must give it a try.
Try BackWPUp Free WordPress Backup Plugin
11. WP Database Backup
WP Database Backup is a great free WordPress backup plugin to take the backup of the WordPress database. Unlike other plugins, it doesn't support the backup of the complete WordPress website.
If you are looking for database backup only then this is the best choice for you. It is free of cost and offers tons of features.
The plugin is simple to configure and allows database backup to Dropbox, FTP, and even email too.
Try the WP Database Backup WordPress Plugin
12. CYAN Backup
Cyan is again a less popular but highly rated WordPress backup plugin. The plugin is not updated for the last couple of years. The plugin is added to the list because its author may plan to update the plugin at any point in time.
It offers scheduled timely backups. You can manually select when you want the backup of your website. The plugin also offers you the flexibility to select the folder for which you want the backup.
You can manually select the single folder to create the backup.
Try Cyan WordPress Backup Plugin
13. WordPress Backup To Dropbox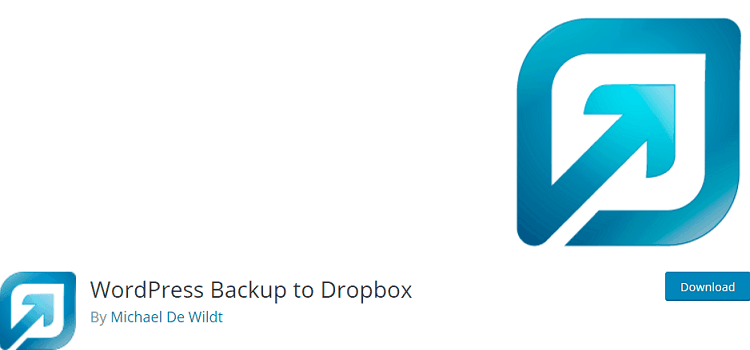 WordPress Backup to Dropbox is again a popular WordPress plugin with almost 1,00,000 downloads. As the name suggests the plugin is integrated to work with Dropbox.T
The plugin is directly integrated with Dropbox. Additionally, you need to create an account with Dropbox. Dropbox is free up to 2GB and posts that it is chargeable. If your website backup is more than 2GB then you have to go for Dropbox paid plan which will cost you.
This plugin works perfectly fine on the latest versions of PHP and needs CURL support. It is easy to configure and use.
The WordPress backup plugin also comes with a premium version offering additional facilities to the users and multi-language support.
Try WordPress Backup to Dropbox WordPress Backup Plugin
14. Xcloner
Xcloner is again a popular backup and restores the WordPress plugin has more than 60,000 downloads and a rating of 4.2/5. The plugin is free to use.
This plugin uses open-source technology such as TAR to back up your data. You can even select the specific folder for which you want to take the backup.
Apart from WordPress the plugin also supports Joomla. The plugin is worth giving a try.
Try Xcloner WordPress Backup Plugin
15. WP BackItUP
WPBackItUp makes backups simple. But did you know we also make restoring, cloning, and migrating your WordPress site simple? Keeping it simple doesn't mean you have to sacrifice features.
Full site backups are easy with WPBackItUp. Just one click creates a complete backup of your entire site. That's every post, page, comment, revision, setting, plugin, theme, media file, and upload every time.
Don't waste time with overly complex backup tools that leave you second-guessing if your site is safe. With WPBackItUp your entire website is backed up with just a few clicks!
The plugin also comes with premium plans offering lots of features. Backup, Restore, Clone, or Migrate your WordPress Site with WBackItUp Premium.
The premium plans are starting from $79 per year for a single website. You can select the best plan as per your requirement and number of the website you are having.
Try WPBackItUP WordPress Backup Plugin
16. WP Time Capsule
WP time capsule WordPress backup plugin comes with a special feature of incremental backup. That means you don't require to take the backup of the complete website every time, the plugin will check for the changes within your website and takes the backup of the file which has been changed.
Every change that happens on your website is backed up immediately. This means that your backup is always up-to-date, automatically.
In the inevitable scenario of a hack, all you have to do is to restore the website to a point back in time, with a single click of a button.
Your website is backed up every time an update is applied. In case an update breaks your site, a quick restore is just a click away.
When your website is critical to your business, you cannot afford any lapse in performance. That's why you can now test changes or updates in the Staging site before going live.
The premium version of the plugin comes with a yearly subscription and also a lifetime subscription. You can purchase the plan that suits your website needs. It also offers a 30-day free trial with all features.
So try it before you buy it.
Try WP Time Capsule WordPress Backup Plugin
17. Snapshot Pro
It's time to call for backup! But who do you call?! Introducing Snapshot, the smart, automated, ready on-demand time-traveler from WPMU DEV.
He'll snap and securely store all of your WordPress and Multisite backups in his private cloud vault. The backup protection you need with simple one-click restoration. Snapshot's got your back…every time.
Schedule automated backups or run Snapshot before you change a line of code, update WordPress core, or activate a plugin. Restore points make it easy to try something new and jump back in a flash if it doesn't work.
Local backups are fast and convenient for quickly undoing a change, but what if your server goes down or is hacked? Your active WPMU DEV membership gives you secure hosted backups with 10GB of storage and one-click restoration from The Hub!
They also offer 30 days of the free trial before you purchase the plugin. It is also a very popular WordPress backup plugin and worth giving a try.
Try Snapshot Pro WordPress Backup Plugin
18. Ready! Backup
Backup and Restore WordPress Ready! plugin easy and fast way to back up your WordPress website to any location: DropBox, Amazon S3, Google Drive back-up, FTP, or Email. Quick restore, both file and database backups.
A new version in the works will back up most of the popular website builders like Wix, Squarespace, and more.
The pro version of the plugin costs $29.
Try Ready Backup WordPress Backup Plugin
19. Akeeba Backup
Akeeba backup WordPress plugin creates a full site backup. The archive includes your database, files, and the restoration script. You get to choose what should be left out of the backup. Files or tables. And with multiple backup profiles, you only set it up once.
Let Akeeba Backup do the thinking. Click on the Configuration Wizard and let it configure itself, optimally for your server. Have a problem? ALICE, our automated log analyzer, will provide you with the right solution based on our years-long experience.
What good is a backup if your server goes down forever? Don't risk it! Let Akeeba Backup automatically copy it to the Cloud. Built-in support for Amazon S3, DropBox, and much more!
Migrate your blog to a different server. Move it to a different location. Or create an exact clone. With Akeeba Backup, it's a piece of cake!
Akeeba Backup can take backups automatically. With four different automation ways, one is always compatible with your site. Let it back up and sleep tight!
The pro license of the plugin costs € 40.00. Give it a try.
Try Akeeba WordPress Backup Plugin
20. Keep Backup Daily
Keep Backup Daily is a WordPress plugin that helps you to get relax about taking regular backups. It is much better than if you are running a news website and don't want to overload your database.
Keep a backup daily and another plugin might be freeing up your database on a weekly basis. There can be many uses for this plugin, you could have a look at what activity is performing on your database nowadays.
It's not only the convenience of exporting MySQL database but having it in a secure place as well. If you have configured the email client on your PC and want to keep a backup on disk so it is possible as well with convenience.
Try Keep Backup Daily WordPress Backup Plugin
21. Complete Central Backup
Complete Central Backup allows for backups to be made on the fly. There are some backup plugins out right now but sometimes they just get too clunky and are hard to follow. We designed this plugin for the normal user with a clean and simple dashboard to go along with WordPress 3.8.
NOTE: If you are upgrading from 1.0.5 to 2. x.x, please download your backups manually before upgrading. BACKUPS WILL BE LOST IF YOU SIMPLY UPGRADE WITHOUT DOING SO.
NOTE: This plugin has no support and is the sole responsibility of the user to ensure that backups are created and full.
Included Features:
ONE CLICK to create a backup of your database or file system.
Schedule weekly, monthly, or daily backups of your database or entire WordPress install.
Enable or disable backup notifications when a scheduled backup is running.
Ability to upgrade the plugin and or WordPress without losing any backup data.
Download your backups for safekeeping.
New component structure to support future features.
Try Complete Central Backup WordPress Plugin
22. S3Bubble Amazon S3 Backup
Backup and Restore WordPress to/from Local Storage or upload/download Backups to/from Amazon S3 bucket (Amazon S3 Web Services – AWS).
FREE Amazon S3 Backup and Restore plugin with additional paid services;
Local Backup: create the Full Backup of the Web Page (Files + Database) and store this at the Local Storage of the Site;
Amazon S3 Backup and Restore (restoration) to/from bracket: create the Full Backup (Files + Database) of the Website at Local Storage and upload this to the Amazon S3 bucket;
Backup and Recovery of BIG files are also supported;
You can manage more than one domain, using a free account at www.wpadm.com
Try Amazon S3 WordPress Backup Plugin
Which WordPress Backup Plugin Do We Recommend?
Blogvault is our choice.
We have seen the various plugins both free and premium offering lots of backup solutions for your WordPress website. You must go to the plugin's website and check out the complete features of the plugin before you install it.
Always remember to take the complete backup of your website offline before you install these plugins or make any changes to the website database.
You must use any one of these plugins to take the complete backup of your website and database. In my recommendation, you must try the blog vault WordPress backup plugin within 7 days of the free trial.
If you have come across any other WordPress plugins offering great features and are cost-effective then do share the plugin name in the comment section of this article. We will try and add them to the article.
Also, share your experience with our users if you have used any of those plugins mentioned above in the article.
If you liked this article, then please subscribe to our YouTube Channel for WordPress video tutorials. You can also find us on Twitter and Facebook