No matter what kinds of product you sell or service you offer, Expressing your brand on social media should be a significant focus of your marketing strategy. Seeing as social media use has grown from 90 minutes per day to more than two hours on average per day in the last seven years, social media platforms are a reliable source of user engagement.
There plenty to be gained just from the free-to-use aspects of platforms such as Facebook, Twitter, and Instagram. Just by existing on such a plan and gaining followers, as well as posting regularly, your brand can develop a substantial following.
Before we proceed further with pro Tips for Expressing Your Brand on Social Media you always require the best Instagram tools to boost engagement.
Some of these tools are powerful enough to identify easy, medium, and hard hashtags to rank for on explore pages, generating hashtags quickly to help you get the biggest exposure on Instagram using Instagram hashtag generator to grow your followers.
However, the true heavy hitters of social media branding are the integrated ad services that Facebook and Instagram, and even Snapchat offer.
Tips for Expressing Your Brand on Social Media
By pursuing a comprehensive social media strategy, expressing your brand in these networks can be very lucrative. Here, we've compiled a set of five tips to make your social media branding as effective as it can be.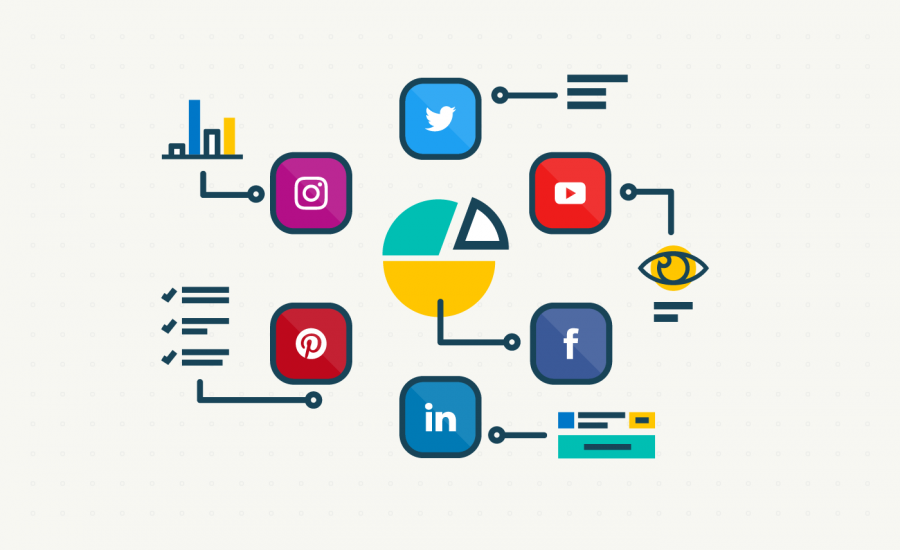 1. Keep It Consistent
One of the most important things to focus on in your use of social media is consistency. This concept plays itself out in two major ways: design consistency and content frequency/timing.
Across-the-board design consistency is a cornerstone of any good branding strategy. Keep in mind that social media users tend to scroll past hundreds of posts from hundreds of different people each day.
In order to stand out and be recognized, brands must draw repeated attention and maintain a throughline across all posts and advertisements.
Investing in a good design team early on is always a good idea, but in the case of social media it becomes all the more crucial in order to stand out and create a brand identity.
Strong brand identity will lead to consumers learning your name and your look and recalling it more quickly the next time they come across it.
Knowing your brand identity and what kind of personality your business has will let you express it organically across all media.
Consistency in posting is also an important focus area. Your non-advertisement social media pages should be posting regular content at least once every week.
Some suggestions: highlight a new product, satisfied users of your brand, behind-the-scenes footage, and much more.
Instagram and Facebook stories are a good way to post small snippets of content daily without having a cluttered page, thus leading users to your profile and maintaining a presence in their feeds.
2. Learn Who You're Talking To (and How to Talk to Them)
One of the most useful aspects of social media branding is the wealth of information at your disposal.
You may know which IP addresses access your website and perhaps the countries or states they come from, but beyond that there's not always much to go on. With social media, location information Is only one of many things to learn and analyze.
Since all social media use is tied to specific user profiles, user analytics (often free and built into the platforms themselves) can let you analyze your user base by age, location, political preference, and much more. This information should be utilized in certain key ways.
First off, you can tailor both your posts and your advertising to the people you're speaking to. Your tone and design may well be very different when addressing a millennial audience versus an older crowd. Targeted ads let you reach both groups with different content.
Split testing is also made easier this way; you can run two slightly different versions of branded ad content and discover which evokes a better reaction.
Lastly, and perhaps most importantly, user analytics lets you reach new likely consumers. Via looking at what other similar products, brands, and pages users have liked, you can find consumers that are in the market for what you are providing but may not have come across your brand yet.
The sky's the limit when it comes to implementing user analytics; get to know your audience well and your brand will be better off for it.
3. Be Proactive!
One of the simplest things you can do to express your brand on social media is to use it like any normal person would. Logging in regularly to your brand's accounts and not just posting, but interacting with the larger social media environment, can have significant benefits.
Liking posts by people who mention hashtags related to your brand can draw people to your page organically. Make sure to use (but not overuse) relatable hashtags yourself; this will help people find you as well.
Commenting can work wonders too, although you should always avoid sounding spammy and actually contribute to the conversation instead.
Response time is key on social media as well and can really bolster or harm your brand's reputation. 25% of millennials, soon to be the most active consumer generation, expect a customer service response within ten minutes.
By being on top of responding to any direct messages, tags, and mentions, other users will more likely engage with you. This not only boosts user interaction but makes you feel more like a friend and less like a business.
4. Utilize Real People
As mentioned above, being more real and more human helps you connect with people on a personal level. The best way to express your brand on social media is to make your audience feel closer to you, instead of reminding them of the supply and demand exchange that can often be the end goal.
There are three primary ways to use the human touch on social media. The first is to integrate real people into your visual media. Instead of displaying your product or service on its own, with a block-color background or on a pedestal, try having people holding or using the product, or engaged with your service.
Quotes and testimonials from customers are always great too; if you come across a post in your hashtag search where a consumer is complimenting your product, try inviting them to write a review or send you a message!
The second way to integrate people into your brand marketing is to encourage them to post and tag your brand when they engage with it.
Whether that's running contests and featuring customer photos on your page, or simply including your Instagram and Facebook on your product itself to lead people to your social media presence, every connection counts.
The third, and perhaps most effective method, is to utilize promo models and brand ambassadors. By recruiting motivated individuals who already have a substantial social media presence, you can tap into a large follower base that may be new to your product.
Social media influencers have the same kind of celebrity endorsement effect that more expensive, unattainable celebrities do, and often are a much more direct and personal way to impress your brand on consumers.
To hire promo models and brand ambassadors, reach out to a staffing agency to get started.
5. Create Actual Content
For your brand to do well on social media, you have to put out content that people like.
To some readers, this may sound like an obvious fact, but you'd be surprised how this fundamental aspect of social media use can get lost in a market strategy.
In their effort to use analytics, post at the exact right times and for the right people, hashtag surf, and so on, many businesses neglect the bread and butter of what makes social media work.
All of the other considerations are important of course, but interesting, engaging, and unique content will always outweigh the more technical factors. Even the most well-run social media branding campaign will seem shallow if there's no good material to back it up.
Take a step back and ask yourself what you actually want to express to consumers about your brand, and what your brand stands for.
Using that big-picture approach, come up with ideas on how to deliver that message honestly and creatively. Don't post for the sake of posting and getting traction: post something engaging enough that the likes and the follows will come.
Also Read,
In Conclusion…
Social media, given its ubiquity in so many people's lives, is an excellent place to express your brand and grow your business.
By posting regularly and maintaining consistent visual and thematic design elements for your brand, you can crystallize a brand identity from the hundreds of competing distractions that platforms like Instagram, Twitter, and Facebook offer. Consistency is key when it comes to branding.
Learn to utilize user analytics tools, either ones offered by your platforms or by third parties, to test advertising and learn more about your audience.
By knowing your audience, you can meet their needs better and create more effective promotional material. Also get to know your potential audience, those people that would be in the market for your brand if only they had heard of you. Then, make sure they hear about you.
Making sure to be active regularly on social media is a valuable habit to develop. By being present not only on your own pages and stories but by engaging with others, your brand can strengthen itself simply by using social media like any regular person would.
Don't forget to consider brand ambassadors and promo models as a very cost-effective (and just effective) way of getting your message out to a lot of users. And lastly, make your social media presence something to be proud of.
Don't post substanceless advertising or fluff pieces; instead, make people curious about you, make them intrigued.
By following these five tips, your brand's social media presence will be a valuable asset that you can be proud of.
If you liked this article, then please subscribe to our YouTube Channel for WordPress video tutorials. You can also find us on Twitter and Facebook