50 essential setting to be done after installing wordpress to make your website secure, speed up and optimize. This setting needs to be done before you start publishing contents on your website. If you are still facing an issue in installation on wordpress then go through our step by step guide for installation of wordpress via various methods.
There are many setting needs to carry out after successful installation of wordpress and before your start publishing contents on your website, but before we proceed with settings the most important thing is the selection of theme for your website.
Top Premium WordPress Themes Provider:
Also Read,
For proper presentation, the essential WordPress settings are divided into three sections that include:
Basic settings

Intermediate settings

Advanced settings
The advanced settings should only be attempted by those WordPress users who are conversant with editing theme files.
Basic Settings after Installing WordPress
These are the most simple but important setting which needs to be carried out immediately after installation of wordpress. In this section, you will learn the basic setting needs to be carried out and the reason why they are required.
1. Reset Installation Password
The first step when you install WordPress via cPanel, softaculous or any other auto installer you need to change the automatically generated password by the auto installer. The automatically generated password is susceptible to brute force attack and hence can compromise your website.
Resetting your password is very simple.
You should log in to your WordPress dashboard.
On the left sidebar menu locate the menu 'Users' and a sub-menu – 'Your Profile'.
Click on generate password to create a new strong password.
The password generated from this very strong password and difficult to trace. You should generate the password and save it at a place where it not accessible by others. You can also show or hide password by clicking the button as shown below.
You should choose the password WordPress generates for you or you can use an alternative password generation software like – LastPass, to generate strong passwords.
2. Clean Up Your WordPress Dashboard
The second step is to go to wordpress dashboard and clean it up. There are many plugins which are automatically installed when to carry out wordpress installation via auto installers. You practically don't require all these plugins and needs to uninstalled.
There are also other default WordPress dashboard widgets, but you may not want to see them every day you log into your site.
On your WordPress dashboard top locate the 'Screen Options' drop down option on the top right corner as shown in the image below:
When you click on the Screen Options a drop down option menu appears, check the widgets that you want to see in your dashboard.
For the widgets that you do not want to see like 'Welcome' uncheck it. Unchecking will hide all those dashboard widgets that you do not want to see.
Ideally, you should only choose to show those widgets that are very useful in your day to day management of your site. This setting helps you to remove clutter from your dashboard and avoid confusion especially if you are new to WordPress.
3. Setup Website Title
The third thing is setup your website title, nearly all wordpress installation comes up with the default website title. Setting up website title is important as your title will show the glimpse of the content that your website will be having. It will also help in google search engine indexing of your website.
On the left side, menu click on 'Settings > General Settings
On the Site Title box, type your site title as shown in the image below:
You can also edit this site title via the WordPress customizer. Under Appearance Menu on the left sidebar dashboard menu look for Customize sub menu.
When you click on it, a customizer appears where you can edit the site title and the tagline as shown in the image below.
When you save the settings, your website title will be shown on the front page of your site and will also appear in the search results. Site Title is basically what your website is about.
4. Set Your Website Tagline
When you install WordPress, it comes with the default tagline 'Just another WordPress site' you should change this tagline since it also appears in search results, your tagline should tell people more about your site.
A tagline is a branding sentence that summarizes what your brand or website is about. You should have something creative for your tagline.
To change the tagline, under the General Settings and below the Site Title settings type your tagline as shown below.
When you save the settings, your tagline should appear on your site front end as well as in the title tag.
5. Setup Your Preferred Site Address – WordPress (URL) Address & Site Address (URL)
Setting up the preferred site address is a very crucial step since it will affect how visitors get to your site. You can either choose to use 'www' or 'http' depending on which way you want your URLs to appear and type in the WordPress Address field.
If you want your site homepage to have a different URL than the folder in which you installed WordPress, you should use the Site Address (URL) field to type the homepage URL, as shown above.
6. Uncheck Membership Option on General Settings
If you find that your Membership option is checked (Anyone can register) under the General Settings, you need to uncheck it in order to control who can register on your site.
Leaving this option checked allows anyone to register on your site and opens the opportunities for spammers to take advantage and register on your site.
7. Set the Date and Time Settings
WordPress is the most popular blogging content management system. Under the General Settings, you are allowed to set how your dates should be displayed, the time format and when your week starts.
These settings allow you to take control of how the time and date are displayed on your site. You can also set up your time zone from the General Settings.
Under the General Settings you can set up the time and date settings as shown on the image below:
This is an important setting for bloggers and it should also be useful for you when you are scheduling content to get published in the future dates.
8. Setup Language Preferences
WordPress lets you set your preferred language. There is a very long list of all the languages available. If you are blogging in your native language and your audience is native, it may be a great idea to have WordPress translated in your native.
Under General Settings > Site Language choose the preferred site language and save the settings.
You can also set the language preference setting when you are manually installing WordPress
It is important to note that some themes are transition ready and make it easy for you to blog in your native language. All themes now days are translation ready and you can use any of them to blog in your native language.
9. Update WordPress Version
Some automatic WordPress installers are packaged with an old version of WordPress. When you install WordPress and see the update notice, you should immediately update WordPress for a secure and optimized site.
You can update WordPress installation to the latest version by clicking on the notification that appears on top of your dashboard widget shown below – click on 'Please update now'.
For new site, you may not have to backup any files before the WordPress update.
10. Delete Dummy Content – Hello World! Post and Sample Page
After installing WordPress, you will see that you have a sample page that shows how your website pages will appear and also a sample post titled 'Hello World'.
Click on your "All Pages" Menu and "All Posts" Menu and delete the post and sample page using the trash button for you to start creating your site pages.
11. Create Basic Site Pages
After deleting the sample page, you need to create your site's basic pages. There are three most common basic pages: About, Contact and Privacy Policy.
To create these pages, click on "Add New" under the Pages Menu and fill in the page title and the content then publish the page.
It's also important to create your basic pages first before you can create your website menu.
To create a contact page, you need to add the shortcode from Contact Form 7 plugin to the page content area as shown in the image below:
12. Setup Your Site Menu
Setting up your website menu is very easy.
You should navigate to the Appearance menu on the left sidebar dashboard menu and click on "Menus".
something like 'Primary Menu' then add the items to the menu by checking the pages on the left side and clicking 'add to menu.'
You can reorganize the menu items by dragging and dropping up and down. You can also edit the menu items by clicking on the downward arrow.
When you have the menu done, you need to select where the menu should appear in your theme. You can alternatively manage the location of menus using the Manage Menu tab.
Save the menu you created and visit your front-end to see how it appears.
13. Delete Unused Plugins and Themes
It is not advisable to have a site that is bloated with themes and plugins that you are not using. You should delete plugins and themes that you are not using but ensure you keep an updated copy of the default WordPress theme.
You should not delete the default WordPress theme; instead, you should always update it. The main reason why you should not delete the default WordPress theme is the fact that if your current theme is broken, WordPress reverts to the default theme. This avoids our site hitting a white screen of death.
For plugins, it is not good to have plugins installed that you are not using and therefore delete the basic plugins like 'Hello Dolly' and those other plugins that come with your WordPress installation.
Sometimes cPanel WordPress installation software has plugins installed that are of little use, ensure you delete all those unnecessary plugins.
14. Update Existing Plugins and Hide Description
When you install WordPress through automatic installers, pre packaged plugins may be outdated. Plugins like Akismet that stops spam to your WordPress site need to be updated.
Go to the plugins page and check for those necessary plugins installed that need to be updated.
You should update the plugin by clicking on the update link that is on each plugin description as shown in the image below:
When you have updated all your plugins, and want to clean up your plugin's page, you can hide the descriptions using the screen options above the plugins' page. Here is an illustration of how to hide the plugin's descriptions:
You should uncheck that option to hide all the plugin descriptions and check it when you want to see the descriptions; this keeps your plugin page clean.
15. Permalinks
WordPress Permalinks are the settings that control how your website URLs appears when you publish pages and posts. Setting permalinks is paramount before you start publishing content on your site.
You can set permalinks by navigating to Settings > Permalinks menu
Permalinks have SEO significance, and therefore you should change the default permalink setting to this custom structure setting:
You can also add a category to your permalinks so that they appear with the category:
You can also add category, post name and post ID with the following:
/%category%/%postname%/%post_id%/
Caution: Permalinks structure should not be changed in future since it may render all the content published before the change to 404 pages. This is not only frustrating to your visitors but will have a serious negative impact on your site rankings.
Intermediate Settings
Intermediate settings are necessary settings but may require a better understanding of how WordPress works. You should be careful not to mess with your WordPress installation especially settings that require editing theme files.
16. Add WordPress Ping List
Adding a WordPress ping list to your WordPress site allows you to have automatic notifications to all the ping services when new content is published on your website. You can add as many ping services that should be notified when you publish a post.
Navigate to Settings > Writing and look for update services option.
Add the list of the ping websites and save. As you can see below, WordPress by default has only one ping service:
There are many ping websites, and you can search on Google for the latest ping list and use it.
17. Add and Remove Widgets on Sidebar
Nearly all WordPress themes come with widgets and you can place the widgets on the sidebar either left or the right sidebar. There may also be other sections in the theme that are 'widgetized', but the default WordPress widget area is the sidebar. WordPress also has inbuilt widgets that you can add on your sidebar.
To add widget, you should navigate to Appearance Menu > Widgets
On the widgets page, the left side has the widgets that are available, and you can drag them to the widget areas on the right. You should click on the widget drop down arrow for further settings.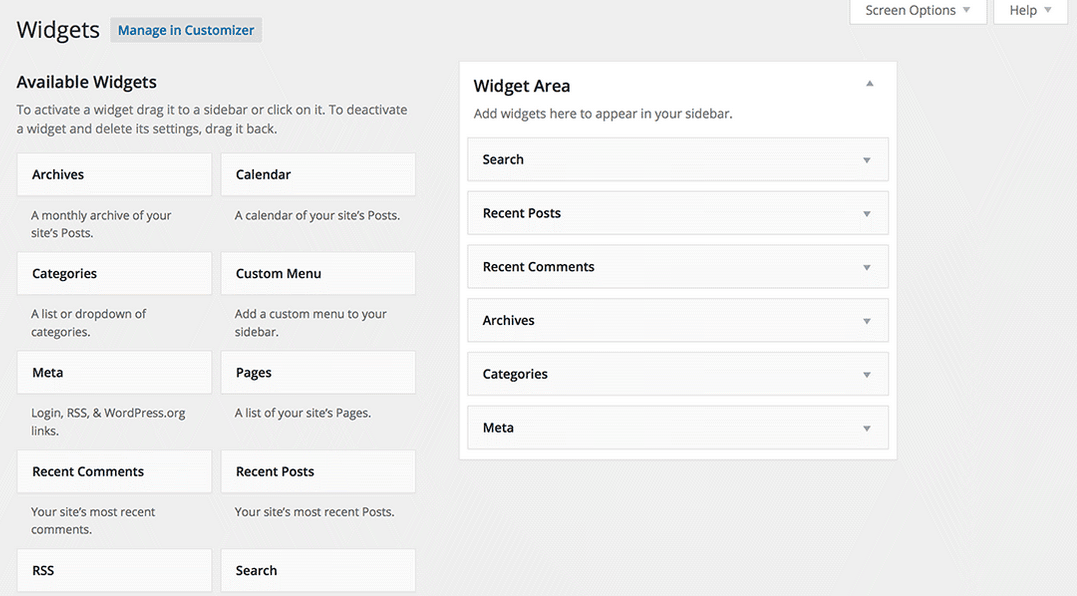 There are all kinds of WordPress widgets that you can add to your sidebar like social media, recent posts, search bar and images widgets
You can search for more widget plugins on the WordPress repository that are available for free. MyThemeShop has one of the most popular tab widget plugins named as "WP Tab Widget" that will enhance your tabs appearance such that they will look more appealing to the user as compared to the default tabs.
18. Create Posts Categories
WordPress posts are grouped into different categories that you can add and categorize the posts as you create them. When you are creating your new website, you probably have an idea on what content you want to publish.
You should use the content topics to form categories for the posts. Creating categories helps keep your content organized and also creates an easy way to navigate your site.
To create categories go to Posts Menu on the sidebar and click on add category.
Fill in the category details including the name, slug and a short description.
You should also rename the default category from 'Uncategorized' to a different name. All posts that are not categorized will appear under the Uncategorized category.
19. Connect Google Analytics
Google Analytics helps you to track daily, monthly and annual traffic of your website and it's very useful for tracking your general traffic growth. Google Analytics requires you first sign up for the Analytics account using your Gmail.
There are a number of ways to add Google Analytics to your website and they include:
Adding Google Analytics to header file (header.php) – You should open your header.php file and copy the file on below the Meta tags. This is not recommended for beginners since it entails editing WordPress theme file.
Adding Google Analytics via Theme Settings – If you have a theme that has an options page, look for a section 'add Google Analytics code' or an 'add scripts to the theme header.' Copy the code there and save the settings.
Adding Google Analytics using a Plugin – This is the easiest method, it takes few minutes and is the most popular way to add Google Analytics. The best plugin to use for this is Monster Analytics. Install the plugin, activate and go to the settings and automatically authorize it to connect to your analytics account.
20. Adding Google Webmaster Console and Verifying Your Website
Verifying your website with Google Webmaster Tools has several benefits and it is highly recommended you verify your site as soon as you complete the WordPress installation.
Google Webmaster Tools lets you know when crawl errors occur on your site. It also provides detailed data regarding your site search index, rankings, 404 errors and general SEO health of your site.
Before you set up Google Webmaster console in WordPress you need to add the site first in the console.
You should be prompted to upload a Meta tag in your site for verification.
There about three ways you can use to upload the Meta tag to your site, they include:
Uploading Meta Tag and verifying – In this method you have to edit the header.php file and add the Meta tag code on directly the header.php code. This method is not ideal for beginners since it will be difficult and requires some HTML and php coding skills.
Adding Webmaster Console through theme settings page – Some themes have a section to add scripts to the header under the theme options page. This code should be added to this section, then click on the verify button in the Google Webmaster Console to confirm your site is verified.
Adding Webmaster Console using a plugin – This is the easiest way to add and verify your site with Google Webmaster; you should install and activate Yoast SEO plugin. On the Yoast SEO menu click on the Webmaster settings and copy and paste the meta tag code on the Google Webmaster Tools space as shown in the image below:
21. Contact Form and Page
You can check the status of your robots.txt file from Google Webmaster console.